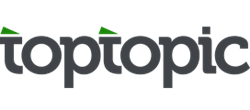 SEATTLE (PRWEB) May 07, 2018
TopTopic, the online platform that financially rewards members for their activity online, today announces its fundraising program for nonprofits, SocialEarn.
With SocialEarn, nonprofits can:
1) Easily post updates, share news, blogs, comments, and creative work to the site, earning donations directly on the content posted.
2) Receive donations directly from TopTopic site members from your profile page.
3) Become the charity of choice for TopTopic members. With the 'Pay It Forward' feature, site members can now dedicate future earning to a registered nonprofit.
4) Enjoy increased exposure and be introduced to the charitable and growing TopTopic community.
5) Cash in your TopTopic earnings/donations at 100% of value, avoiding the costly processing fees of other fundraising sites.
6) Enjoy cost-effective fundraising and audience engagement opportunities, regardless of nonprofit size.
While online giving has continued to grow over the past few years, there is new concern that the recently approved tax plan may adversely impact nonprofits. In this landscape, SociaEarn offers new avenues for nonprofits to connect with, and receive donation from supporters.
TopTopic's Co-Founder Saïd Amin says, "Since its launch, TopTopic has emphasized shifting the monetary value and profiting of meaningful content from platform/company owners, to those investing their time to post and share. There's a nexus between our intentions and the needs of nonprofits, so we're excited to see them leverage the platform to increase their online fundraising totals."
Whether posting a status update, blog, picture, video or podcast, each piece of content is a continuous fundraising opportunity for participating nonprofits. Through various forms of game-mechanics, TopTopic incentivizes member engagement and rewards generosity.
SocialEarn has already received early attention from a number of participating nonprofits including, Babies of Homelessness, International Civil Society Action Network, Palestine Children Relief's Fund, Rape and Abuse Crisis Center and the National Iranian American Council.
Seattle based Babies of Homelessness Vice Chair Brittan Stockert said, "As is the case with most nonprofits, we are strapped for time, resources, and budget. TopTopic has allowed us to easily build a foundation of supporters AND fundraise without taking the focus away from what matters the most–the mission and our clients. You won't find another all-in-one innovative solution that truly matches the needs of small to large organizations in the nonprofit space. We are extremely grateful!"
Sanam Naraghi-Anderlini, Co-founder and Executive Director of the International Civil Society Action Network (ICAN) added the following about her organization's use of the TopTopic platform, "As a nonprofit working on peace building, we are privileged to partner with some of the most extraordinary people and organizations globally. They are modern day super heroes, and we want the world to know about them, and support them."
ABOUT TOPTOPIC
TopTopic is an online platform that shifts traditional monetary dynamics from companies to those investing their time to share and engage with content. It is quickly becoming a popular posting site for writers, artists, commenters, curators and others to create and share content. TopTopic is based in Seattle, Washington.
To learn more about SocialEarn or to register a nonprofit for participation, please click here: Registration / Learn More or contact us at socialearn(at)toptopic(dot)com.