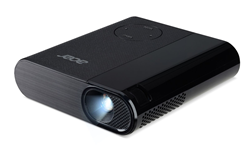 "The Acer C200 is ideal for road warriors wanting a portable projector for making presentations on the go without having to carry a laptop," said Ronald Lau, Acer America director – stationary products.
SAN JOSE, Calif. (PRWEB) May 08, 2018
Acer America announced its Acer C200 portable projector is now available in the United States. Pocket-sized and extremely lightweight, it's ideal for professionals desiring a hand-held projector for making presentations on the road, such as sales representatives, real estate agents and consultants. It is also useful for consumers who want a lightweight projector to bring on trips.
Just 4.3 x 4.7 x 1.2 inches with a similar footprint as a passport – and weighing only 12.34 ounces - it fits in the palm of the hand and can project an 82-inch image from 6.5 feet. A built-in lithium ion rechargeable battery provides up to four hours of use without requiring a power supply and can also work as a power bank for recharging devices.(2) Content can also be projected from a smart device with an MHL cable or wirelessly from a PC or smartphone using an optional adapter.
"The Acer C200 is ideal for road warriors wanting a portable projector for making presentations on the go without having to carry a laptop," said Ronald Lau, Acer America director – stationary products. "Professionals will appreciate its compact size, light weight and ability to project images from a smart device."
Delivering 200 lumens brightness and a 3,500:1 contrast ratio, Acer's newest portable projector delivers crisp presentations and photos. It also provides 4W stereo sound with two built-in 2W speakers. Presentations can be enjoyed in native FWVGA 854x480 resolution or at the maximum UXGA 1600x1200 resolution. It delivers deep color saturation up to 100 percent NTSC,(3) while ColorSafe II technology virtually eliminates color decay to deliver consistent and natural colors, even after thousands of hours of use.
Offering instant on/off capability, customers can pack the projector and go without having to wait for it to cool down. It can also be used on camping trips thanks to high altitude mode, which increases the fan speed to prevent it from overheating and shutting down from lower air density. A great return on investment, it provides a long product lifespan of up to 20,000 hours in standard mode and up to 30,000 hours in ECO mode.(4)
Pricing/Availability
The Acer C200 portable projector is available at online retailers in the United States for $199.99 MSRP. It comes with a limited one-year parts and labor warranty(5). Please click on the following link for images.
About Acer
Founded in 1976, Acer is now one of the world's top ICT companies and has a presence in over 160 countries. As Acer looks into the future, it is focused on enabling a world where hardware, software and services will fuse with one another to open up new possibilities for consumers and businesses alike. From service-oriented technologies to the Internet of Things to gaming and virtual reality, Acer's 7,000+ employees are dedicated to the research, design, marketing, sale, and support of products and solutions that break barriers between people and technology. Please visit http://www.acer.com for more information.
Media Contacts:
Erin Davern
Tel: +949-471-7785
Email: erin.davern(at)acer(dot)com
© 2018 Acer America Corp. All rights reserved. Acer and the Acer logo are registered trademarks of Acer Inc. Other trademarks, registered trademarks, and/or service marks, indicated or otherwise, are the property of their respective owners. All offers subject to change without notice or obligation and may not be available through all sales channels. Prices listed are manufacturer suggested retail prices and may vary by location. Applicable sales tax extra.
1) Some smartphones require a converter.
2) Actual battery life varies by model, configuration, applications, power management settings, operating conditions, and utilized features. A battery's maximum capacity decreases with time and use.
3) Color gamut is the range of color a display can reproduce and is commonly expressed as a percentage of NTSC. Although NTSC stands for National Television System Committee, which developed television standards for North America, in this instance, the percentage of NTSC refers to the full range of color that can theoretically be displayed.
4) Lamp life depends on a variety of factors including brightness and can be maximized via Acer EcoProjection Technology, which allows the user to customize power-saving configurations.
5) Limited warranty agreement applies. For a copy, write to Acer Customer Service, P.O. Box 6137, Temple, TX 76503.