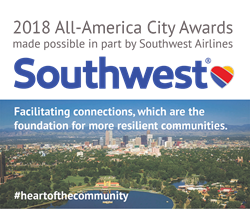 "We see more strength, unity and hope than ever before at the local level," said Doug Linkhart, president of National Civic League.
DENVER (PRWEB) May 09, 2018
Twenty finalist communities have been named by the National Civic League as finalists for recognition as an All-America City, with ten winners to be announced on June 24 in Denver. Called the "super bowl of civics" the All-America City Awards recognize cities and counties that demonstrate civic engagement practices that unite members of the community to collectively solve our country's most pressing and complex issues.
"We see more strength, unity and hope than ever before at the local level," said Doug Linkhart, president of National Civic League. "This year we are recognizing communities that have demonstrated inclusive engagement practices that promote equity and bring all voices to the table. Each finalist has leveraged civic engagement, collaboration, inclusiveness and innovation to successfully address important challenges."
Finalists include the 7th most populous city in America (San Antonio, TX) and a town of only 22,000 people (Decatur, GA). Other finalists are: Springdale, AR; Placentia and Stockton, CA; Longmont, CO; Miami Beach, FL; Battle Creek, MI; Charlotte, NC; Las Vegas, NV; Cincinnati, OH; Beaverton, OR; Allentown, PA; Columbia, Kershaw County and Mount Pleasant, SC; El Paso, TX; and Pasco and Tacoma, WA. More information about these communities and their projects is on the National Civic League website. (https://www.nationalcivicleague.org/2018-finalists/)
Civic projects in these communities range from addressing systemic racial trauma to community-driven solutions for mental health, education, fiscal sustainability, environmental stewardship and police-community relations. The finalists will each make a community presentation to the awards jury on June 23 and 24. These traditionally include skits, music, speeches, dancing and heartfelt stories.
This year's awards event follows the 109th National Conference on Local Governance, which takes place on June 22 at the Hilton Denver City Center. The conference and awards coincide with the 50th anniversary of the report of the National Advisory Commission on Civil Disorders (the Kerner Commission). Senator Fred Harris, last surviving member of the commission, will provide the opening Keynote of the conference.
The National Civic League advances inclusive civic engagement through our community assistance programs, civic engagement tools, training and facilitation services, award and recognition programs and nationally-recognized research and publications. We promote promising practices that engage residents and other community stakeholders in ongoing work help their communities thrive.
The All-America City Award is made possible through the support of Southwest Airlines, the official airline sponsor, Kaiser Permanente, W.K. Kellogg Foundation, The Campaign for Grade-Level Reading, CGI Communications, ICMA-RC, Comcast, Delta Dental and other local sponsors.