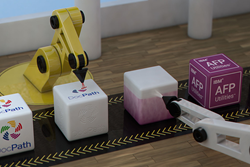 Boulder SuiteTM simplifies and enhances a company´s overall document and communications process while allowing AFPU users to keep working on IBM i®
SUWANEE, Ga. (PRWEB) May 09, 2018
- The latest improvements added to DocPath´s Boulder SuiteTM document software solution include fast and secure migration from IBM® AFP Utilities to DocPath® technology.

Boulder SuiteTM simplifies and enhances a company's overall document and communications process while allowing AFPU users to keep working on IBM i®.
DocPath presents the latest release of its DocPath Boulder Suite solution, which has evolved into a replacement solution for not only IBM InfoPrint Designer, but now also for IBM AFP Utilities.
Why You Need to Replace AFPU
With InfoPrint Designer, companies benefitted from an easy-to-use tool to enhance spooled file output on IBM i. At the beginning of the 21st century, however, user needs grew exponentially as the requirements for customer communications were becoming vastly more complex. Therefore, in 2011, DocPath launched Boulder Suite to meet the needs of thousands of IBM InfoPrint Designer users who were looking for a replacement software solution.
Recently, other needs for legacy software replacement solutions have appeared, from the large number of companies which relied on IBM Advanced Function Printing Utilities ('AFP Utilities' / 'AFPU') for years to create electronic forms (overlays), image resources, and AFP applications. As IBM recently announced that they're discontinuing Advanced Function Printing Utilities on IBM i 7.3, many organizations now wish to modernize their form processes and find a new tool so they can keep creating electronic forms.
DocPath Boulder Suite: APFU Replacement Document Software
DocPath Boulder is one of the AFPU replacements products recommended by IBM, as it provides a quick and secure path for conversion of AFP resources as well as advanced functionality, including the option of generating a wide range of print or electronic output formats (AFP, PDF, PS, etc.).
Since its release in 2011, the DocPath Boulder Suite solution is available in two versions, based on production or printing needs and the use of new means and formats when issuing documents. Boulder Suite Pro, in addition to InfoPrint Designer, and now also AFPU, project conversion means and advanced design and generation features, incorporates multiple output options and distribution via printers, email or fax. For organizations that require high-volume printing processes, DocPath launched Boulder Suite Advanced, which provides all features of the Pro version in addition to an unlimited number of printouts.
New Advantages for APPU Users
When AFP Utilities, and InfoPrint Designer, resources are converted into DocPath resources, users are able to take full advantage of all the features of both tools and beyond, as DocPath technology allows companies to add dramatic improvements to existing form designs and workflow processes, with more print output options and a wide range of distribution channels.
Boulder Suite´s main features for AFPU users include:
Quick and seamless conversion from AFPU and InfoPrint Designer projects into DocPath-supported resources.
Intuitive and modern interface for Windows, which is easily integrated with the existing IBM i production environment, for editing and enhancing converted form designs.
Multiple output formats: AFP, PDF, PCL, PS, labels, etc.
Wide range of distribution channels: printers, email, fax, database, Web, etc.
Additional DocPath product features for project enhancement (dynamic forms, 2D bar codes, dynamic 3D charts, etc.).
The option of keeping the IBM i platform, whether it be in a DocPath environment or with existing production tools.
In short, the enhanced DocPath Boulder Suite not only provides an easy and seamless replacement path for companies that need or want to move on from IBM AFP Utilities, but it also allows organizations from any business area to implement communication functionalities that go beyond AFPU and technologically keep up-to-date.
For more information, visit:

About DocPath
DocPath is a leading document software manufacturer that provides its world-wide customers the technology that allows them to implement of sophisticated Customer Communication and Document Output Management processes. Created in 1993, DocPath´s solutions are found in companies all over the world. Among its international clients are prestigious banks and first class corporations, which are aided by DocPath solutions by simplifying the complicated and critical task involving the design and distribution of business and customer documents. DocPath maintains a strong commitment to R&D&i, an area that receives a good amount of its revenue, and in which lies the key to the company´s success. http://www.docpath.com
Disclaimer: DocPath trademarks are the property of DocPath Corp. IBM trademarks are the property of IBM Corporation. Other company, product and service names may be trademarks or service marks of others.