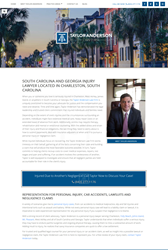 Charleston, SC (PRWEB) May 08, 2018
Taylor Anderson Law Firm, located at 507 Savannah Hwy in Charleston, SC 29407, is a qualified law practice established by attorney Taylor Anderson. With a strong record of advocacy throughout Charleston, South Carolina's low country, as well as Georgia, you can trust Taylor Anderson to meet your family's legal needs. While individuals recover, Taylor Anderson Law Firm works tirelessly on their behalf by gathering all of the facts concerning their case and building a claim that will produce the most favorable outcome possible.
Clients throughout Charleston and surrounding areas rely upon attorney Taylor Anderson for help when they've been injured, from recovering medical costs and repairs to compensation for lost wages, pain and suffering. If an accident involves the carelessness of another individual, business or organization, Taylor is well equipped to investigate negligence and ensure that all parties are held accountable. With knowledge and expertise covering admiralty and maritime law, motor vehicle accidents, nursing home or caretaker abuse, premises liability, property damage, serious bodily harm and wrongful death, attorney Taylor Anderson provides the focused attention that each case deserves. Additionally, Taylor has a unique experience with termite bond lawsuits representing clients in the low-lying coastal regions of South Carolina and Georgia.
"My passion is helping others. I enjoy the challenge of achieving the best possible outcome, no matter how complicated a case may be," says Taylor Anderson of Taylor Anderson Law Firm.
More About Taylor Anderson and Taylor Anderson Law Firm:
A native of Augusta, GA, Taylor Anderson attended Augusta State University where he graduated with high honors in 2000 before attending and graduating from the University of Georgia Law School in 2004. Taylor is a member of the South Carolina Bar and the State Bar of Georgia. Taylor has lived in the Charleston area since 2008.
From investigating and seeking compensation for injured clients to litigating complex construction defect cases, Taylor enjoys his work. Always willing to accept a challenge, Taylor will represent clients in a wide range of cases including personal injury, car and truck accidents, termite damages, business disputes, class actions, maritime accidents, insurance coverage, nursing home neglect and more. In both South Carolina and Georgia, Taylor has obtained favorable results in State and Federal Courts.
Taylor's passion and enthusiasm for helping others continue with the establishment of Taylor Anderson Law Firm in Charleston, as he represents those who have been injured in accidents or have suffered serious injuries or death due to another's negligence.
For additional information about Taylor Anderson Law Firm, or to schedule a consultation with Taylor Anderson, please visit http://www.andersonlawfirm.law or call (843) 277-1176.