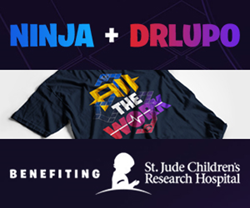 Everyone has put countless hours into making this project possible and perfect; we all have the same goal and outlook: it's for the kids
(PRWEB) May 07, 2018
St. Jude Children's Research Hospital, founded in 1962, promises that every child receives the best treatment, the most cutting-edge research available, and the chance to live out their life as a healthy and active kid. Design By Humans is excited to team up with Twitch partners and Fortnite Streamers, DrLupo and Ninja, to be a part of a worthy campaign to help raise awareness and funds for St. Jude Children's Research Hospital.
Not only do longtime friends, DrLupo and Ninja, play the widely popular Fortnite survival game together, but they also both appreciate the importance of giving back to their community and helping those around them. They are thrilled to be involved in the St. Jude GuardianCon Tiltify campaign and want to encourage a community of compassion and continued charitable work.
The popular Twitch streamers have a long history of charity fundraising but are especially excited to announce their partnership with the DBH team: the design of the "All The Work" t-shirt – a collaboration between CaptainTwaz, DrLupo, Ninja, St. Jude and the GuardianCon Tiltify. The awesome Design Lead, CaptainTwaz, from GuardianCon created the unique design for this exciting and generous campaign.
The "All The Work" tee is an homage to a popular joke between the two friends; what began as an inside anecdote between DrLupo and Ninja has since become a well-used and beloved phrase across their community of supporters and fans. The joke was born out of the times when one player worked to get the number of enemies down, and then the other player would swoop in, finish the kills, and subtly try to take all the credit by joking, "All The Work".
Not only do DrLupo and Ninja love the humor and the imagination of the design, but they are also excited about the idea that "All the Work" will "work" towards helping children too. DrLupo and team shares, "We're excited to partner with St. Jude and GuardianCon to help out families in need. Thank you to both of our communities that helped make this event possible and a huge success!" The DBH team is similarly eager to help and Chris Lee, DBH'S Gaming Account Manager, admits, "working on this project with CaptainTwaz, DrLupo, MrsDrLupo, Ninja, St. Jude and the GuardianCon Tiltify has been an amazing experience. Everyone has put countless hours into making this project possible and perfect; we all have the same goal and outlook: it's for the kids."
100% net proceeds will go to saving children, funding research, and making sure that no child or family must pay for life-saving procedures out of their own pocket. Help make a difference with DBH by joining Ninja and DrLupo today to help fund St. Jude Children's Research Hospital.
About St. Jude Children's Research Hospital
The non-profit, St. Jude Children's Research Hospital, founded in 1962, promises that every child receives the best pediatric treatment available, while being given the chance to visit the highest-quality research facility in the United States – at no cost to them and their family. The hospital continues to be a leading facility in knowledge, technology, and the treatment and prevention of children's diseases across the globe.
About Design By Humans
Design By Humans offers a platform for artists, gamers, and YouTubers to create and showcase their unique artwork as phone cases, wall prints, and fashionable tees, tanks, and more. With 10 years of experience, Design By Humans has woven a shared spirit that thrives on designing vibrant and meaningful art. To learn more about the vision, please visit:
https://www.designbyhumans.com/.
DBH works to build an environment that respects collaboration, quality, integrity, and the entrepreneurial spirit. The DBH Collective is inspired by the comical as well as the abstract, the imagined and the concrete; and works to create innovative art that is an expression and a reflection of today's society.
We are gaming fiends, cat-enthusiasts, and pop culture fanatics. Most importantly, however, we are a passionate team of independent creators who buzz for the next buzz word, whistle as we work, and create designs that inspire the next generation of trendsetters from around the world.
To become a part of the Design By Humans community and submit designs today, we encourage you to visit: https://www.designbyhumans.com/become-an-artist/ and learn more!
Follow Design By Humans on Facebook at /DesignByHumans, on Instagram at DesignByHumans with #designbyhumans, and on Twitter @DesignByHumans.