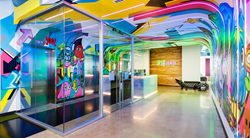 A large and very important part of what makes PIEtech an industry leader is our people.
POWHATAN, Va. (PRWEB) May 08, 2018
In addition to PIEtech, Inc. being awarded a 2018 Top Workplaces honor by the Richmond Times Dispatch on Thursday, May 3rd, it received second place in the Mid-Size Category of companies and the Special Award for New Ideas. This is the company's third year being recognized as a Top Workplace in the Greater Richmond area and second year in the top two spots of the Mid-Size Company category. A special part of PIEtech's culture was recognized this year with one of twelve specialty awards, New Ideas being encouraged at the company.
Jaime Proctor, PIEtech's Chief Operating Officer said, "A large and very important part of what makes PIEtech an industry leader is our people. The PIEtech culture encourages employees to be involved in making the software and company a better place by taking an active role, providing input and reaching out to the company's leaders." As a financial planning software company, PIEtech prides itself on providing industry leading software that helps advisors and their clients achieve their lifetime financial goals.
PIEtech, headquartered in Powhatan, has two offices and employs just over 140 people. Part of what makes PIEtech special for its employees is its community presence. PIEtech actively supports various local charities such as the Powhatan Free Clinic, Backpacks of Love, Habitat for Humanity and Lonesome Dove. Employees are empowered to personally make a difference by participating in volunteer opportunities during the work day and encouraged to create meaningful relationships with local organizations.
In addition to the colorful and eclectic art found throughout PIEtech, employees enjoy a dog-friendly environment, a casual dress code, snacks, scooters, ping-pong, foosball and video games. PIEtech-sponsored events include food trucks, paint night, plant night, a summer party and a Santa party, just to name a few. "It's a work hard, play hard type of place where people are highly knowledgeable and passionate about their work," said Ms. Proctor, "and where they are encouraged to continue developing their skills. While we seek to hire top talent, we also appreciate and reward home-grown performers and often promote from within."
The list is based solely on employee feedback gathered through a third-party survey administered by research partner Energage, LLC (formerly WorkplaceDynamics), a leading provider of technology-based employee engagement tools. The anonymous survey measures several aspects of workplace culture, including alignment, execution, and connection, just to name a few.
"Top Workplaces is more than just recognition," said Doug Claffey, CEO of Energage. "Our research shows organizations that earn the award attract better talent, experience lower turnover, and are better equipped to deliver bottom-line results. Their leaders prioritize and carefully craft a healthy workplace culture that supports employee engagement."
About PIEtech, Inc.
PIEtech® is singularly focused on financial planning and helping more Americans secure their financial future by planning for it. With the vision that Everyone Needs and Deserves a Quality Financial Plan, MoneyGuidePro®, created by PIEtech®, makes robust goal-based planning fast and easy. Other innovative tools include bliss, the Retirement Compatibility Game for couples, Financial Freedom, an interactive tool that helps clients control debt and start saving. For more information about PIEtech or its powerful financial planning solutions, visit http://www.moneyguidepro.com.
About Energage, LLC
Headquartered in Exton, Pa., Energage (formerly known as WorkplaceDynamics) is a leading provider of technology-based employee engagement tools that help leaders to unlock potential, inspire performance, and achieve amazing results within their organizations. The research partner behind the Top Workplaces program, Energage has surveyed more than 47,000 organizations representing well over 16 million employees in the United States.