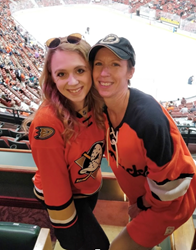 "The whole experience turned out to be the most exciting night of our lives. Not only did the Ducks win in overtime, I had the ActivePDF suite filled with family and friends, and my mom was there with me – cancer free!"
LAGUNA NIGUEL, Calif. (PRWEB) May 08, 2018
As the 2017-18 NHL season was coming to an end, the odds were stacked against the Anaheim Ducks making it to the Stanley Cup Playoffs. At the beginning of February, the Ducks had only 60 points in 52 games. This point total put the Ducks into third place of the Pacific Division. The Ducks then made a late-season push, securing a spot in the playoffs with 101 points, fueled by a record of 8-1-1 in their last 10 games. Finishing the season slightly behind first-place, the Ducks were the No. 2 team in their division. Diehard fans never doubted.
Kaitlin Howarth and her mom, Karen, were among the true believers. For a Christmas gift, Kaitlin gave her mom (a Detroit native, now converted Ducks fan) a pair of tickets to the Ducks vs. Detroit Red Wings game on March 16, right in the middle of the Duck's playoff push. However, when the game came around, Kaitlin had to attend the game without her mom, who was having an unexpected surgery following a battle with breast cancer.
ActivePDF, the leading global provider of PDF automation technologies and solutions and proud sponsor of the Anaheim Ducks, ran an exclusive giveaway that night. Fans in attendance were asked to text a number for a chance to win a fully-catered suite for 20 guests. Kaitlin knew the odds of winning were slim to none, but just like her favorite team, she shrugged off the the odds, took a shot, and entered the contest.
A few weeks later, Kaitlin received an official email from the Anaheim Ducks congratulating her on winning the ActivePDF corporate suite. Kaitlin and 20 of her guests would be in the suite as the Ducks rallied for a playoff berth. The first person she called was her mom, who had recovered from surgery and was now cancer-free.
"My mom kept asking me if I was sure it was real," laughed Kaitlin who works at Disneyland Resort and currently attends Cal State Fullerton. "The whole experience turned out to be the most exciting night of our lives. Not only did the Ducks win in overtime, I had the ActivePDF suite filled with family and friends, and my mom was there with me – cancer free! I couldn't feel more blessed. It was a perfect celebration to my mom beating her battle with breast cancer. My mom and the Ducks making a comeback! It was just perfect."
Derek Gerber, ActivePDF Director of Marketing, attended the game and met with both Kaitlin and her mom. "While we always find ways to give back and support the community, it was really clear that this was a truly special moment for everyone in that suite because there was an energy that I cannot describe," said Derek.
"This one hit a personal note for me and the fact that it was a random drawing, makes me think that it was meant to be. We couldn't be more thankful for the opportunity to share this great moment with Kaitlin, her family, and friends."
Unfortunately, the Ducks postseason run was brief with elimination in the first round. However, the memories created by that one night at Honda Center in the ActivePDF suite will always remain. When next season rolls around, Kaitlin and her mom will be back in the stands celebrating another victory and knowing that odds are meant to be beaten.
#LetsGoDucks
To learn more about ActivePDF and their suite PDF automation tools, visit ActivePDF.com. Follow ActivePDF on Twitter, Facebook, Instagram and Linkedin.
About ActivePDF
Founded 2000, ActivePDF Inc., is privately held and is a global provider of PDF tools for integration within virtually any business process, including Digital Transformation, Enterprise Content Management (ECM), Document Management, and Workflow solutions. The ActivePDF suite of technologies and solutions are represented amongst 40% of Fortune 500 companies and are designed to streamline large volumes of rendering and assembly of content into accurate, secure and accessible PDFs. We serve over 25,000 customers from 90 countries in numerous industries such as Healthcare, Financial, Education, Manufacturing, Utilities, Engineering, Legal and Government. For more company information, visit ActivePDF.com.
For additional information, please contact:
Derek Gerber, Director of Marketing
derek.gerber(at)activepdf(dot)com
ACTIVEPDF and the ActivePDF Logo are registered trademarks of ActivePDF, Inc. All other trademarks are property of their respective owners.