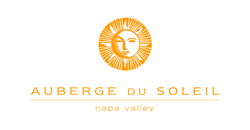 RUTHERFORD, Calif. (PRWEB) May 08, 2018
Auberge du Soleil, the quintessential Napa Valley adult getaway, is partnering with celebrated natural skincare brand, Vintner's Daughter, to elevate the facial experience at the award-winning Auberge du Soleil Spa. Vintner's Daughter's coveted product, Active Botanical Serum, will be showcased in the Spa's indulgent "Best of Auberge" facial treatment for the first time. The luxurious multi-correctional serum enhances the results-driven facial with nutrient-rich botanicals and powerful skin renewing agents to promote an instant, long-lasting glow while stimulating cellular turnover and skin elasticity. This exclusive partnership between Auberge du Soleil and Vintner's Daughter is the skincare brand's first and only spa partnership in Napa Valley.
"We've found an ideal partner for the Auberge du Soleil Spa in Vintner's Daughter – both are deeply rooted in Napa Valley and committed to extending the most effective and luxurious skin care service possible," said George Goeggel, Managing Partner at Auberge Du Soleil. "We are delighted to be the only spa in Wine Country to share Active Botanical Serum with our guests. In addition, we know the experience will be further elevated by the dedicated training and techniques Vintner's Daughter has provided to our talented estheticians to ensure guests receive the optimal benefits of the serum and the service."
Auberge du Soleil and Vintner's Daughter share a common ethos and commitment to utilizing Napa Valley's bounty for indigenous inspiration and ingredients for their products and spa treatments. Further, both brands are aligned in their commitment to providing quality processes and elevated spa experiences for guests and wellness aficionados.
"As someone whose heart has always been in Napa, I am thrilled to bring the beauty-boosting power of Active Botanical Serum to the Auberge du Soleil Spa," said April Gargiulo, Founder of Vintner's Daughter. "Our serum pairs perfectly with the Best of Auberge facial, and I'm excited for guests of the Spa to experience true radiance as a result of this special service."
Inspired by fine winemaking, Vintner's Daughter introduced the world's most nutrient-dense serum featuring whole botanicals that infuse their powerful properties through time-honored formulation practices. Founder April Gargiulo, a Napa Valley native who hails from the Gargiulo Vineyards family, has extended the quality and artisanship of her heritage to her own entrepreneurial effort. The brand's "desert-island" hero product, Active Botanical Serum, was developed around exceptional ingredient sourcing, meticulous formulation methods and multi-correctional performance.
Similarly, the Auberge Du Soleil Spa utilizes ingredients sourced from the destination's plentiful vineyards, olive groves and gardens to inspire its indulgent treatment offerings. Temperate soaking pools offer captivating views of the valley while the central courtyard showcases picturesque French-inspired fountains anchored by 100-year-old olive trees. Reflecting the relaxed sophistication of Auberge du Soleil, the Spa's mission is to provide each guest with an opportunity to reconnect with themselves and nature in an intimate and rejuvenating environment.
The signature Best of Auberge Facial at the Auberge du Soleil Spa generates advanced age-defying results using exceptional, innovative skin care lines. Skillful application of collagen serums and hydrating masks plump and firm the skin, while illuminating botanical enzymes promote cellular regeneration. Vintner's Daughter Active Botanical Serum serves as the cornerstone formula for the treatment, adding powerful anti-oxidants to restore skin balance to achieve a beautiful, healthy radiance.
Inspired by the relaxed sophistication of the South of France and infused with California soul, Auberge du Soleil features wine country's most luxurious accommodations, spectacular valley views, a 12-time Michelin Star award-winning Restaurant, and the exclusive Auberge du Soleil Spa. Known for passionate, intuitive service that sets the standard for gracious hospitality, the property is a member of Relais & Châteaux, an international association of outstanding boutique properties known for their excellence in hospitality and the culinary arts. The hotel consistently receives the highest accolades from the hospitality industry, discerning guests and the media, and is perennially ranked among the best in the world by influential publications. For more information please visit http://www.aubergedusoleil.com and follow at facebook.com/AubergeduSoleil and on Twitter and Instagram at @AubergeduSoleil. For reservations and availability contact the hotel directly at 800.348.5406 or email ads.reservations(at)aubergeresorts(dot)com.
About Vintner's Daughter
Vintner's Daughter is a luxury skincare company dedicated to creating game-changing, multi-correctional products with uncompromising performance, quality, and safety. Renowned for its singular, award-winning formula, Active Botanical Serum is comprised of 22 of the world's most nutrient-rich botanicals that deliver optimal skin nutrition and transformational results in one single step for all skin types, colors, and ages. For more information please visit http://www.vintnersdaughter.com.
About Relais & Châteaux
Created in 1954, Relais & Châteaux is an organization of more than 560 exceptional hotels and restaurants run by independent men and women, all driven by a passion for their profession and dedicated to the authenticity of the relationships they build with their customers. With operations on all five continents, from the vineyards of Napa Valley to Provence and the beaches of the Indian Ocean, Relais & Châteaux members invite all to discover the art of living enshrined in the location's culture, and share a unique, human story. Relais & Châteaux members have a profound desire to protect and showcase the richness and diversity of the cuisine and inviting cultures of the world. They worked towards this goal, along with the goal to preserve local heritages and the environment, through a UNESCO Manifesto in November 2014.
http://www.relaischateaux.com.
About Auberge Resorts Collection
Auberge Resorts Collection owns and operates a portfolio of exceptional hotels, resorts, residences, and private clubs. While Auberge nurtures the individuality of each property, all share a crafted approach to luxury that is expressed through captivating design, exceptional cuisine and spas, and gracious yet unobtrusive service. Properties in the Auberge Resorts Collection include: Auberge du Soleil, Calistoga Ranch and Solage, Napa Valley; Esperanza and Chileno Bay, Los Cabos, Mexico; Hotel Jerome, Aspen; Malliouhana, Anguilla; Nanuku, Fiji; Hotel Madeline and Element 52, Telluride, Colorado.; Hacienda AltaGracia, Costa Rica; Mukul, Guacalito, Nicaragua; and Auberge Beach Residences and Spa Fort Lauderdale (opening Summer 2018), Bishop's Lodge (opening Spring 2019), Lodge at Blue Sky, Utah (opening Spring 2019), Commodore Perry Estate, Austin (opening late 2019), and Susurros del Corazon (opening late 2019), with several others in development. For more information about Auberge Resorts Collection, please visit http://www.aubergeresorts.com/. Follow Auberge Resorts Collection on Facebook at facebook.com/AubergeResorts and on Twitter and Instagram at @AubergeResorts.
About The Friedkin Group
The Friedkin Group is comprised of a consortium of automotive, hospitality, entertainment, golf and adventure companies. These organizations include: Gulf States Toyota, GSFSGroup, GSM, US AutoLogistics, Ascent Automotive Group, Auberge Resorts Collection, Imperative Entertainment, 30WEST, Diamond Creek Golf Club, Congaree and Legendary Adventures. The Friedkin Group is led by Chairman and CEO Dan Friedkin. For more information, visit http://www.friedkin.com.
MEDIA CONTACT:
Michelle Noski
Murphy O'Brien Public Relations
310-453-2539
mnoski(at)murphyobrien(dot)com