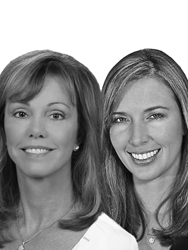 PONTE VEDRA BEACH, Florida (PRWEB) May 08, 2018
Haute Residence welcomes Kim Martin-Fisher and Jennifer Martin Faulkner to its invitation-only network of top real estate professionals. As Haute Residence partners, Martin-Fisher and Faulkner represent the exclusive real estate market in Ponte Vedra Beach, Florida.
Accomplished real estate agents on their own, both Martin-Fisher and Faulkner have earned accolades that have attested to and cemented their top position in Northeast Florida as well as nationally. Utilizing their in-depth knowledge of the local market and connections within the larger real estate industry, they possess personal dedication and professional expertise to find their clients' the best deals.
About Kim Martin-Fisher:
Coldwell Banker Vanguard Realty's #1 Top Producing and Listing Agent company-wide and #1 Selling Agent in Ponte Vedra, Martin-Fisher is consistently recognized as one of the top agents throughout Northeast Florida as well as one of the top Sales Associates in the entire state. She is listed as one of the top 1 percent of Coldwell Banker Agents worldwide. Martin-Fisher has gained recognition as a Premier Agent with Coldwell Banker International, having achieved President's Premier Agent award consistently since joining in 2013.
Always a self-starter, Martin-Fisher moved her family to Ponte Vedra Beach in 1996, where she entered real estate sales full time. Starting at ground zero she is now at the pinnacle of success. Through hard work and dedication, she has grown her business to a production of more than $63 million in annual sales. Her marketing background, contract-negotiation skills and relationships with the top area architects, general contractors, home inspectors, attorneys, appraisers and bankers have allowed her to provide the best of service with no clients' questions left unanswered.
About Jennifer Martin Faulkner:
Ranked #18 in Jax Business Journal and #4 in the company for 2017 sales, Faulkner has been a consistent Coldwell Banker's International President's Circle Award Winner since 2014. She also ranks in the top 5 percent of Coldwell Banker agents worldwide.
A UCF alumna and a fourth-generation realtor, Faulkner specializes in the Jacksonville Beaches area, including Ponte Vedra Beach, Nocatee, Jacksonville Beach, Neptune Beach, Atlantic Beach, and Intracoastal West. Her reputation and trusted working relationship with top area brokers, bankers, inspectors, and appraisers are excellent and make for incredibly smooth transactions. With over 10 years of experience, Faulkner has extensive executive level relocation training with the nation's top relocation companies.
About Haute Residence:
Designed as a partnership-driven luxury real estate portal, Haute Residence connects its affluent readers with top real estate professionals, while offering the latest in real estate news, showcasing the world's most extraordinary residences on the market and sharing expert advice from its knowledgeable and experienced real estate partners.
The invitation-only luxury real estate network, which partners with just one agent in every market, unites a distinguished collective of leading real estate agents and brokers and highlights the most extravagant properties in leading markets around the globe for affluent buyers, sellers, and real estate enthusiasts.
HauteResidence.com has grown to be the number one news source for million-dollar listings, high-end residential developments, celebrity real estate, and more.
Access all of this information and more by visiting: http://www.hauteresidence.com