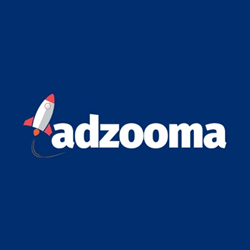 "I know the struggles of being a small business owner. That's why I am excited about what Adzooma means for SME's." - Fred Done
NOTTINGHAM, England (PRWEB UK) 8 June 2018
The all-in-one advertising programme Adzooma has received backing from the founder of Betfred, Fred Done, and Warren Jacobs of Active Win, as the online advertising platform continues to make an impact in the marketing industry.
Adzooma, who became a Google Premier Partner earlier this year, is a market leading technology that simplifies online advertising for micro-budget SME's.
The platform offers an automated marketing solution that is designed to streamline and simplify the process of advertising on Google AdWords.
"We built the Adzooma platform from the ground up with SME businesses at the forefront of our minds," said Adzooma Director and co-founder Robert Wass.
"It's a tool that's been designed to be used by those with the most limited of marketing knowledge, but in the background we have formed a team of in-house Google AdWords certified professionals who are constantly testing and tweaking the technology so we can continually react to Google's ever-changing algorithim. We don't want our clients to be left behind.
"To enhance our product further and give us the ability to scale, we approached Warren Jacobs and the ActiveWin team, who are widely regarded as the best multi-channel experts in digital marketing."
ActiveWin are based in Manchester and provide digital marketing services to global brands including the likes of Betfred, Property Moose, MoneyPlus and Push Doctor.
"The opportunity to work with Google and Adzooma on developing a service for SME's was a natural progression for us," said Warren Jacobs, MD of the ActiveWin Media Group.
"This partnership allows us to leverage our extensive digital knowledge gained over the years within some of the most competitive online industries in the world. Through Adzooma, we can share best practices with SME's to help them flourish."
David Sharpe, Director of Adzooma, revealed the idea of Adzooma came after identifying a gap in the marketplace for more sophisticated marketing options that has largely been the domain of enterprise level business.
"By removing the complexity of advertising online and guiding SME's through each step of the process, we level the playing field and enable them to grow their business," said Sharpe.
"Their success is so important to keep local economies going strong. At Adzooma we are proud to play our part in making that happen."
Fred Done, one of the UK's most successful entrepreneurs and founder of Betfred, also became involved in the project. As an angel investor in several global digital businesses and properties, his participation will lend authority and stability to the venture.
Done added: "As someone who started with a single shop in Salford in 1967, I know the struggles of being a small business owner. That's why I am excited about what Adzooma means for SME's. This platform not only creates effective ads, but there is performance data that really matters and is easy to read and understand. So now, small businesses can be just as marketing savvy as the big boys. Likewise, it reduces the barrier to entry by eliminating large agency fees. I like that, which is why I came on board."
Adzooma have plans to further expand into Facebook and Twitter advertising in time, while workshops and events have also been scheduled.
Adzooma is expected to launch globally in September 2018.
ABOUT ADZOOMA
Adzooma is a proprietary web application software for creating and managing online advertising campaigns with third party advertising networks. http://www.adzooma.com
Adzooma is a subsidiary of ClickTech Solutions Ltd. (t/a Adzooma), incorporated in England & Wales number 09899629 with offices at 7 Castle Quay, Castle Boulevard, Nottingham NG7 1FW
T: 0115 850 7474
ABOUT CLICKTECH
ClickTech deliver innovative solutions that help digital marketers drive performance across search, display, email and social channels with one powerful digital marketing platform and through their private label affiliate network programme. http://www.clicktech.com/
ClickTech is registered in England & Wales number 09899629 with a registered address Leytonstone House, 3 Hanbury Drive, Leytonstone, London, E11 1GA, United Kingdom.
T: 0115 9411342
ABOUT ACTIVEWIN MEDIA GROUP
ActiveWin Media is a Manchester-based marketing firm that provides complete digital marketing services including PPC, social media marketing, affiliate programs, display media buying, SEO, content marketing, video on demand, CRM and re-marketing services to global brands. http://www.activewin.co.uk/
Active Win Media is incorporated in England and Wales with company number 08263882 and is located at Steam Packet House, 72-76 Cross Street, Manchester M2 JG, United Kingdom.
T: 0161 359 3593