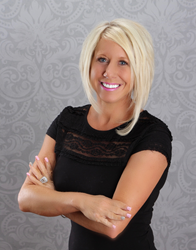 Her company continues to expand at an exponential rate earning her spot as a leader in the Sunless beauty industry.
WELLINGTON, Fla. (PRWEB) May 10, 2018
Melissa Weinberg is the founder of Perfect Glow Sunless by Melissa Weinberg™ a luxury sunless cosmetic beauty brand. She is also a South Florida spray tan expert & educator since 2009 and her company has become a top leader in the Sunless industry receiving 5 star reviews from retail consumers, salons and spas worldwide.
Since facing skin cancer Melissa wanted a safer way to tan and was not happy with the ingredients or unnatural color results that she found in many self-tanning products on the market. So in 2004 she worked with a top cosmetic chemist to curate her own sunless beauty line. Since then Perfect Glow Sunless has grown at a exponential rate making it's mark in the sunless beauty industry.
Weinberg just had the exciting opportunity to audition for Shark Tank season 10 in Las Vegas! So stay tuned to see what might happen! You can read her blog about that great experience http:// https://perfectglowsunless.com/my-shark-tank-open-casting-call-experience/
Her entrepreneurial journey is truly an American dream success story and something that is rarely achieved by most in the beauty industry. She was recently featured in Voyage MIA as a Palm Beach most inspiring story and over the years her entrepreneurial journey was highlighted in Learnvest.com and featured in Forbes.com, Huffington Post and Money magazine. (Turning a side gig into a 9-5 business) as well as other outlets.
Weinberg started her company out of her house as a 1 woman show in her late 30's. She packed orders in her guest bedroom and to save money had to learn how to do her own marketing, sales and even web design to grow her brand. For the first few years she also worked a full time 9-5 job in the corporate industry & spray tanned clients on nights and weekends.
Since then she has successfully beat the odds and has grown her company into a prominent worldwide brand, all without the help of investors. Perfect Glow Sunless has earned Weinberg a spot as a well respected leader in the Sunless beauty industry. She hopes to have the chance to pitch to the sharks and get the opportunity to expand the reach of her products even further within the beauty industry. One of her business goals is to partner up with retail outlets such as Sephora or QVC to showcase her luxury self tanning line.
About Perfect Glow Sunless by Melissa Weinberg™
Melissa is a strong believer in well-being and an advocate for health. She is passionate about offering the world a luxurious beauty product that is safe to use and a product that will offer that "perfect glow" without the perils of natural sun bathing or the hassles of mainstream tanning products.
This luxury line of self-tanning and body care products last longer and are superior color compared to others on the market. Formulated with top shelf ingredients such as Moroccan Argan Oil, Coconut Oil, Hemp Seed oil & Marine extracts to name a few & without the nasty chemicals used in other products in the market, such as parabens, formaldehyde, sulfates, mineral oils, glycols, glutens or petrochemicals. They are also certified vegan & Cruelty free by PETA as part of their "Beauty Without Bunnies Program". Now consumers can get a healthier, top quality salon grade tan in the comfort of their own home.
Her beauty brand has provided salon owners & retail consumers worldwide with the highest quality of sunless tanning products, earning rave reviews in the process and used on celebrities to give them their red carpet glow. The company's mission is to provide top quality products, consumer education and excellent customer service. Ms. Weinberg also provides sunless education, training and mentoring to industry professionals worldwide with her Perfect Glow Spray Tan Academy™.
Retail consumers wishing to find out more about Perfect Glow Sunless by Melissa Weinberg™ and its products can discover more at the company website, located at [https://Perfectglowsunless.com.
For more information on the Spray Tan Academy please visit https://learntoairbrushtan.com
The Facebook and Instagram page can be viewed via these links
https://www.facebook.com/Perfectglowsunless/