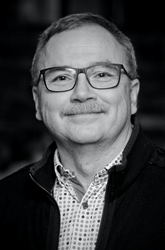 "I am absolutely thrilled to accept this appointment as CEO. I joined Ayuda in September 2017 and have since become enamored with the company, team, and the DOOH industry altogether. We have incredible plans for continued growth, and I'm looking forward to delivering on them." - Luc Filiatreault
AUSTIN, Texas (PRWEB) May 08, 2018
Ayuda Media Systems Inc. (Ayuda), a leading ERP & Business Optimization software company whose technology is used by of out-of-home (OOH) media companies globally to run their day-to-day operations, announced today at the Geopath / OAAA 2018 conference that it completed a change in Chief Executive Officers.
Andreas Soupliotis, Founding CEO since the company's inception 15 years ago, will be moving to the role of Vice-Chairman of Ayuda, while the current President Luc Filiatreault has been promoted to CEO. Soupliotis will continue to advise the company on strategy from his board seat. He has been acting as CEO of two companies, Ayuda and Hivestack, since Hivestack's inception as a separate, programmatic ad tech company. The change was initiated by Soupliotis himself to permit full-time dedication to Hivestack operations as its CEO while moving to a non-operational role at Ayuda.
Soupliotis commented on the change: "Luc has done a phenomenal job since he joined last year. During his initial short tenure as President, he has already transformed the business in many positive ways that have laid a foundation for spectacular growth. I have full faith in Luc's ability to take Ayuda to new heights as I pass on my role as CEO to him."
Filiatreault also commented on the change: "I am absolutely thrilled to accept this appointment as CEO. I joined Ayuda in September 2017. I have since become enamored with the company, the team and the DOOH industry altogether. We have incredible plans for continued growth, and I'm looking forward to activating and delivering on them. Andreas is leaving big shoes to fill, and I look forward to his guidance as I continue where he left off."
Soupliotis offered a parting note: "We founded Ayuda in 2003 with the mission of empowering OOH media owners with state-of-the art software to their run day-to-day operations optimally while automating workflows. Almost 15 years and almost one hundred OOH media owners later, vendors globally use Ayuda to operate highly efficient front & back-office OOH business units. I would like to take this opportunity to extend a wholehearted thank you to all the OOH media owners that have chosen Ayuda to run their business. I see where Ayuda is headed, and the best is yet to come."
About Ayuda
Ayuda is an ad tech company specializing in OOH business optimization. The Ayuda Platform is used globally by some of the world's largest OOH companies to manage day-to-day business operations. It includes an end-to-end ERP specially built for OOH, a fully native ad-based digital signage platform, and programmatic integrations that enable OOH media companies to tap into new digital revenue streams and modernize their trading models. Ayuda is a proud member of the DPAA, OAAA and FEPE.
For more information, visit http://www.ayuydasystems.com