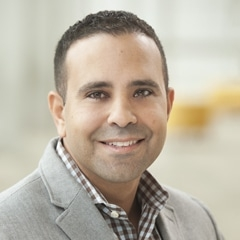 We are always focused on our customers and figuring out how to remove friction from their experience.
LOUISVILLE, Ky. (PRWEB) May 09, 2018
Taco Bell is renowned for its innovative culinary fare but it's also a powerhouse when it comes to digital transformation and delivering on customer expectations.
The Mexican-inspired quick-service restaurant, which operates 7,000 locations under the Yum! Brands umbrella, was one of the first QSR brands to launch a mobile ordering and payment app and digital ordering. Now, Taco Bell has embarked on a number of digital initiatives called "All Access." Taco Bell has been busy rolling out a number of new technologies, including digital menu boards, a refresh to their web site and mobile apps and planned roll-out of self-service kiosks. It's also refreshed its POS hardware and deployed chip and pin payment devices during that time.
Taco Bell's digital transformation strategy, according to Rafik Hanna, senior director, All Access, for the past three years, reflects Taco Bell's desire to be a "Category of One" brand.
"It's a very dynamic company. Taco Bell is always at the forefront of delighting our customers with relevant and exciting initiatives whether it's the food, the experience or the digital platforms," Hanna shared with Retail Customer Experience in a phone interview.
Taco Bell's All Access digital transformation is the focus of Hanna's keynote presentation at the upcoming Interactive Customer Experience (ICX) Summit, set for June 12-14, at the Omni Frisco Hotel in Frisco, Texas.
When Hanna arrived at Taco Bell a number of its restaurant technology and digital initiatives were in flight and Taco Bell was focused on determining the right partners to work with.
"I came in at just an amazing time," he said.
Taco Bell's digital transformation success in the past several years is tied to three specific elements.
The first is the fact that everyone, from the executive team to the IT department to franchisees to the team members in the restaurants are part of making the transformation happen, said Hanna.
"There is no such thing as a technology or digital initiative, it has to be cross-functional and the opportunity is when you can really blur the lines between business initiatives and IT projects. It's when you think digitally about everything you do," he explained.
The key question asked of every potential digital transformation effort is a simple one, he added.
"There are processes and experiences that make sense to digitize and there are others that don't. The key is to make sure everything we are doing has the customer at the focus. You have to answer this question: 'what is in this for the customer?'" he said, adding "if you can't answer that clearly you need to go back to the drawing board."
Hanna's keynote will provide deeper insight into the many digital transformation successes at Taco Bell.
"We are always focused on our customers and figuring out how to remove friction from their experience," said Hanna, adding the strategy spans across the technologies in the restaurant from digital menu boards to kiosks to digital platforms such as web and apps.
For example, with the mobile app, Taco Bell customers can customize favorite items, browse the menu and search for nearby locations. They can order and pay ahead, and select a pickup time, as well as track their order. These customer-facing digital efforts will also enhance customers access to the brand via delivery and group ordering.
"It's about eliminating any friction, giving customers more control of the food they want, how they want it and when they want it," said Hanna.
A second key element in Taco Bell's success is listening and engaging with customers, whether in the restaurant, through its website or via social media channels.
"We are always talking to our customers and hearing from them through our social channels and the feedback they provide us. Taco Bell is truly a leading brand when it comes to engaging with customers and taking that feedback and incorporating it into what we are doing," said Hanna.
Taco Bell's continual digital transformation is critical given its prime customer base.
"We have very digitally savvy customers at Taco Bell and fans that love the brand so we have two great things working for us. We just need to keep up with their constantly changing and evolving expectations and really improving the access for them," he said.
That's why Taco Bell strives to give customers control over how to order, and how and when to pick up orders and making the experience as seamless a process as possible.
A third element to success, said Hanna, is Taco Bell's overall approach to digital technology deployment and strategy overall. One hint: it's not about running fast and blind.
"For us, when we are embarking on large transformational projects, whether it's new customer facing technology or new technologies or programs for our restaurants, we always take the time upfront to pilot and learn and really take the time to get it right before we deploy nationally," Hanna said, adding "that is a big key to our success — starting small and getting the solutions absolutely right before we go full throttle."
And that strategy is clearly paying off. Taco Bell took home top honors this year in the 30th annual Harris Poll EquiTrend study of favorite brands, taking first place for the Mexican cuisine category. The study measures brand health over time — including familiarity, quality and purchase consideration — and assigns a brand equity rating for each brand. More than 77,000 U.S. consumers assessed more than 3,000 brands across more than 300 categories to provide data determining winners in each category.
Find out more about how Taco Bell is leading the charge in digital transformation by attending the ICX Summit. Early Bird registration ends Friday, May 11. Register here.
About Networld Media Group
Founded in 2000, Networld Media Group is a leading business-to-business (B2B) global media communications company specializing in digital media, associations and events in the mobile, self-service, digital signage, retail, food service and financial services industries. Online properties include ATMmarketplace.com, BlockchainTechNews.com, DigitalSignageToday.com, FastCasual.com, FoodTruckOperator.com, KioskMarketplace.com, MobilePaymentsToday.com, PizzaMarketplace.com, QSRweb.com, RetailCustomerExperience.com and BiblicalLeadership.com. Networld event properties include the Fast Casual Executive Summit, CONNECT: The Mobile CX Summit, Interactive Customer Experience Summit, Bank Customer Experience Summit and the Restaurant Franchising & Innovation Summit. Networld also operates the ICX Association. Its newest offering, Networld Press, provides clients with an all-in-one website solution featuring custom website design and ongoing editorial, content strategy and website updates.
###