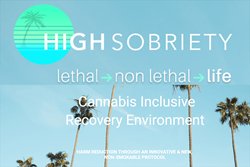 JUPITER, Fla. (PRWEB) May 11, 2018
In an upcoming episode, Innovations with Ed Begley Jr. will explore recent advances in substance abuse and mental health. This segment is scheduled to air 4th QTR 2018. Check your local listings for more information.
Innovations will focus on High Sobriety, a company that supports a spectrum of recovery alternatives for individuals who have been previously unable to stop using alcohol and/or other drugs after attending traditional abstinence-based settings.
Viewers will learn about High Sobriety's alternatives to traditional recovery approaches, including a Cannabis-Inclusive recovery environment. The company states that this treatment is not for everyone and is offered with limited exceptions. Additionally, residents must have been unsuccessful at previous attempts to engage in an abstinence-based recovery process and must be currently using drugs with a known lethal dose or with side-effects that have the potential to be life-threatening.
Audiences will be educated about High Sobriety's goal to eliminate the risk of death from drug use with a lethal dose by using a drug with no lethal dose, and why they believe this to be a massive improvement that saves lives.
"High Sobriety has taken an innovative idea, using cannabis as a bridge therapy for addiction and put it in action. Many scientists and journalists have been looking at the opioid epidemic from afar, postulating that cannabis is helpful in reducing prescription pharmaceuticals and decreasing the number of lethal overdoses," said Dr. Sherry Yafai, Director of Research & Development at High Sobriety. She continued to say, "High Sobriety is taking those perspectives and making it work. Our approach is multifocal, a mix of traditional therapy and using non-smokable cannabis medications to assist in individual treatment paths. Patients are all unique and we focus on providing patient's personalized plans made with their best outcome in mind. For those who are cynical of this treatment plan, we urge people to think twice about repeatedly offering the same, failed treatment plan to our loved ones who are at risk of dying before the age of 40. Looking for real alternatives is what High Sobriety has offered patients, to transition into a 'new' normal life, engaged in their day to day activities."
"High Sobriety believes in the interwoven connection between mind and body," said Michele Nehls, Senior Producer for the Innovations series. "We look forward to bringing this information to our viewers."
***
About High Sobriety:
High Sobriety is dedicated to eliminating the risk of death from drug use. Cocaine, heroin, meth amphetamine, pharmaceuticals, and other street drugs all have a lethal dose. Alcohol leads the death toll and kills more people than all other drugs combined. Cannabis has no known lethal dose. Eliminating drugs with a lethal dose and using a drug with no lethal dose is a massive improvement and saves lives. For generations society has been told that cannabis is a "gateway" drug. High Sobriety believes it is an exit drug. Its unique recovery community can aid the minimization of harm and elimination of the use of drugs with a lethal dose, and believes through its guidance, people can live happier and safer lives by switching from lethal drugs to cannabis. For more information, visit: http://www.highsobrietytreatment.com.
About Innovations and DMG Productions:
Innovations, hosted by award winning actor Ed Begley, Jr., is an information-based series geared toward educating the public on the latest breakthroughs in all areas of society. Featuring practical solutions and important issues facing consumers and professionals alike, Innovations focuses on cutting-edge advancements in everything from health and wellness to global business, renewable energy, and more.
Backed by experts in various fields, and a team dedicated to education and advancement, DMG Productions consistently produces commercial-free, educational programming on which both viewers and networks depend.
For more information visit http://www.InnovationsTelevision.com or call (866) 496-4065.