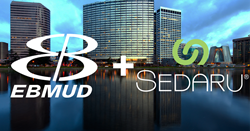 "Sedaru brings a fast, real-time, map interface to office and field staff, providing unique and effective geospatial and data analysis tools. Staff will have instant access to infrastructure information shown graphically on a map and the tools to provide efficient and effective response plans."
ARCADIA, Calif. (PRWEB) May 08, 2018
IDModeling (Sedaru) announced today that East Bay Municipal Utility District (EBMUD), CA has signed a 5-year, $1.7M contract with Sedaru to provide real-time information for its Operations and Maintenance (O&M) Department.
The contract is a milestone in the relationship between EBMUD and Sedaru after extensive business case evaluations, pilot implementations, and technology vetting. Included in EBMUD's selection was the recommendation that "Sedaru brings a fast, real-time, map interface to office and field staff, providing unique and effective geospatial and data analysis tools. Staff will have instant access to infrastructure information shown graphically on a map and the tools to provide efficient and effective response plans."
"EBMUD is an industry leader in both thought and practice, and it's a privilege to have reached this milestone together. We're excited to help the District advance its daily operations, with real-time capabilities and enhanced access to its enterprise systems." - Paul Hauffen, President & CEO, IDModeling, Inc.
EBMUD will extend Sedaru's Operations Management & Network Intelligence (OMNI™) application as the real-time platform to monitor, dispatch, track, trend, and report-on data from across the O&M Department. Sedaru Connect will integrate water distribution system data from the EBMUD's GIS, work order management system, field collection, leak and shutdown response, valve exercise machine, and leak and pressure sensors. Sedaru Fieldforce will be expanded to more EBMUD field staff for preventative and corrective maintenance. Sedaru Outage will facilitate pipeline leak and break response and support pipeline shutdowns, while calculating water loss and receiving data from leak detection sensors in the field. Sedaru Modeling will support distribution system what-if analyses including fire flows and provide hydraulic impacts for informed shutdown response and planning.
Sedaru Implementation services will train and deploy the software to approximately 170 users including field staff, management, dispatch center staff, and other O&M and engineering staff.
About EBMUD: EBMUD's water system serves approximately 1.4 million people in a 332-square-mile area extending from Crockett on the north, southward to San Lorenzo, eastward to Walnut Creek and south through the San Ramon Valley. EBMUD's Mission is to manage the natural resources with which the District is entrusted; to provide reliable, high quality water and wastewater services at fair and reasonable rates for the people of the East Bay; and to preserve and protect the environment for future generations.
About Sedaru: Sedaru Drives the Automated Utility, delivering value to our customers at every stage of their digital transformation. Sedaru software and services create the digital enterprise with real-time GIS, CMMS, Field Mobility, Network Monitoring, and Modeling for the organization, offering today's only turnkey utility management system for the 21st century utility. Sedaru automates workflows, extends the useful life of existing systems, and unifies disconnected departments within one, easy-to-use app for operations management & network intelligence (OMNI™). Request a demo to see how Sedaru can work for your utility: http://bit.ly/2wnLYll