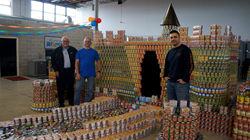 "Our employees had a great time constructing the castle, but more importantly, we were all overwhelmed by the mass of the donations, and we know they will be put to good use."
MEMPHIS, Tenn. (PRWEB) May 08, 2018
American Residential Services (ARS), a Memphis, Tenn. based, privately-held national provider of air conditioning, heating and plumbing services, held its 2nd Annual Can Castle Competition to assist in combatting food shortages during the summer months. ARS/Rescue Rooter made a commitment to help with the need while making the collection a chance for friendly competition.
During the school year, low-income students may receive breakfast, lunch, snacks and weekend meals—all distributed through their school. However, when schools close, there are fewer options for kids to get food and more pressure on families. ARS had 41 service centers participate in a can and non-perishable food drive to support their local food banks. However, in order to keep things creative, ARS made the competition a "Can Castle Competition," where the items collected were constructed into castle-like structures. Locations around the country collected from their employees from March 26th to April 26th, and the final count and winners were announced May 4th.
Branches were judged on creativity as well as the number of items collected, and the center ARS/Rescue Rooter Illinois won the grand prize. The branch made an intricate castle complete with turrets and watchtowers. Additionally, Chicago employees donated over 10,000 items for their local food bank. "An essential part of our culture here is giving back to our community," says Scott Toomey, General Manager for ARS/Rescue Rooter Illinois. "Our employees had a great time constructing the castle, but more importantly, we were all overwhelmed by the mass of the donations, and we know they will be put to good use."
The 1st and 2nd Runners-Up was ARS/Rescue Rooter of Richmond and ARS/Rescue Rooter of Cleveland, respectively, both with over 2,500 items donated per branch. According to "No Kid Hungry," five out of six kids who rely on free or reduced-price school meals aren't getting free meals in the summer. ARS/Rescue Rooter is looking forward to actively and artistically fulfilling that need.
ABOUT AMERICAN RESIDENTIAL SERVICES: Based in Memphis, Tenn., privately-owned ARS operates a network of more than 70 locally-managed service centers in 23 states, with approximately 6,500 employees. The ARS Network features industry-leading brands including, A.J. Perri, Aksarben ARS, Allgood, Andy's Statewide, ARS, Aspen Air Conditioning, Atlas Trillo, Beutler, Blue Dot, Bob Hamilton, Brothers, Columbus Worthington Air, Comfort Heating & Air, Conway Services, Efficient Attic Systems (EAS), Florida Home Air Conditioning, Green Star Home Services, Irish Plumber, McCarthy Services, Rescue Rooter / Proserv, Rescue Rooter, RighTime Home Services, RS Andrews, The Irish Plumber, Unique Services, "Will" Fix It, and Yes! Air Conditioning and Plumbing. As an Exceptional Service Provider, the ARS Network serves both residential and light commercial customers by providing heating, cooling, indoor air quality, plumbing, drain cleaning, sewer line, radiant barrier, insulation and ventilation services. Each location has a knowledgeable team of trained specialists. ARS requires background checks and drug tests on all employees. We hire professionals with the highest level of integrity. Providing exceptional service and ensuring the highest standards of quality, ARS has the experience to do any job right – the first time, with all work fully guaranteed. ARS: "Making it work. Making it right."
###