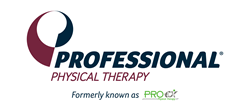 As we unite under one name, we want to assure our patients that they will continue to receive consistency in care in all of our state-of-the-art clinics across the Northeast
PORTSMOUTH, N.H. and UNIONDALE, N.Y. (PRWEB) May 15, 2018
ProEx Physical Therapy, an affiliate of Professional Physical Therapy, announces today that its locations in the New England area, as well as its corporate office in Portsmouth, New Hampshire, have been rebranded, and are now known as Professional Physical Therapy. Professional Physical Therapy is a leading provider of outpatient physical therapy and rehabilitation services, with locations throughout New York, New Jersey, Connecticut, Massachusetts and New Hampshire.
The name transformation follows the May 2017 partnership between ProEx and Professional, where both companies came together to enhance and expand benefits to their patients and staff. The decision was made as a way for both companies to continue to flourish as one in the ever-changing healthcare industry. Since then, ProEx has experienced tremendous growth, expanding from 16 clinics to 44 clinics over the past year.
By being recognized as one company, under the Professional name, the organization will have greater opportunity to further develop its footprint in the Northeast, and continue to provide best-in-class care to all patients.
ProEx's core values and daily operations remain unchanged. The company will continue to offer exceptional patient experiences in the same convenient locations, and will operate with the same caring staff, same expertise and leadership team -- while providing the highest quality care. Its robust clinical training program, with manual therapy training at the Institute of Orthopedic Manual Therapy (IOMT) will remain, along with the year-long Fellowship at Boston University (BU).
"We're truly proud of the evolution of our company, and we're excited to be recognized under the trusted, award-winning Professional Physical Therapy name," said Mike Mulrenan, Founder and President of ProEx Physical Therapy, who is now President of Professional's New England region. "Since partnering with Professional, we have become a stronger company by providing additional services, greater convenience to our patients in nearby locations across five states, and offering impressive career opportunities and advancement for our staff."
"As we unite under one name, we want to assure our patients that they will continue to receive consistency in care in all of our state-of-the-art clinics across the Northeast," said Adam Elberg, President and CEO of Professional Physical Therapy. "We have worked alongside our colleagues at ProEx Physical Therapy for over a year now, and we're proud to take this final step in solidifying our affiliation."
Professional Physical Therapy operates 175 outpatient clinics in the Northeast, including 44 locations in Massachusetts, New Hampshire, and Northern Connecticut. For more information, and a list of all of Professional Physical Therapy locations and services, please visit http://www.professionalpt.com.
###
About Professional Physical Therapy
Founded in 1998, Professional is an industry leader in outpatient orthopedic physical therapy, headquartered in Uniondale, NY. Professional is an award-winning organization, honored as the recipient of the 2016 ADVANCE for Physical Therapy and Rehab Medicine magazine's annual Practice of the Year award, selected based on clinical expertise and exceptional patient experience. Most recently, Professional has been named among the best workplaces in health care by Fortune Magazine; the only physical therapy company to achieve this honor.
In 2017, ProEx joined the Professional Physical Therapy family offering patients greater access to locations throughout the Northeast with expanded services, such as sports medicine and occupational therapy.
Their experienced orthopedic physical therapists and sports medicine team provide compassionate care to patients of all ages, ranging from pediatric to geriatric patients, as well as weekend warriors to elite athletes. The organization is also the official Athletic Training Services provider to various sports organizations throughout the Northeast, and the official physical therapy partner of the New York Islanders and St. John's University Athletics. For additional information, please visit http://www.professionalpt.com.