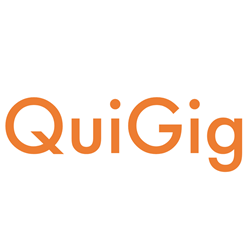 HOUSTON (PRWEB) May 10, 2018
Today's demand for contract-based short-term services couldn't be any stronger. Unfortunately for the tens of millions of freelancers in America, the framework for finding work leaves much to be desired. Whether it's paying steep platform user fees, struggling with spam posts or growing weary from negotiating payment agreements, today's freelance professionals and those who offer such work have been left to deal with these shortcomings and more.
There's good news on the horizon: Those days are numbered and QuiGig, a service platform for freelancers and customers, will launch its all-new service later this year. At the moment, the company is making final arrangements and a crowdfunding campaign on Indiegogo is part of those plans. As a way to locate and bid on contract-based work online, those who sign up to use QuiGig will be presented with "warm" leads and real gigs. The company firmly believes that it will become the go-to outlet for freelancers and rapidly attract users, which will grow concurrently with the platform's "Quig" utility token.
QuiGig's current crowdfunding Indiegogo campaign aims to entice both freelancers and investors. Here are four reasons why getting on board now will pay off after the initial launch.

Creating gigs and bidding on those jobs requires the use of Quigs. Signing up now means a 50 percent discount on Quigs, which will grow in value as more users join the platform.
Quigs are only released by QuiGig in amounts that coincide with current platform demand. Those who hold these utility tokens can sell them on-site to other users.
Investors can earn up to 100 times of their initial investment by selling tokens from this first round within five years and those who sign up now could amass anywhere between 5,500 to 1 million Quigs.
Investors who want to support QuiGig are encouraged to make a donation on the crowdfunding page. This will further help the company prepare for the upcoming launch of the website and app.
The official launch of QuiGig is only months away, but the effort to attract freelancers starts now. The company will eventually boast 7 million pages across the country that are loaded with real short-term contract-based work. To the more than 41 million self-pronounced freelancers in the U.S., QuiGig says that the wait for real work is almost over.
About QuiGig:
QuiGig will be the instrumental addition to the gig-based economy that allows this field to finally take off. Offering both local and remote jobs, those who sign up to becoming platform members will be able to use Quigs to interact with the app, land jobs and get paid all in one place. This effort to revolutionize the way services are traded online will soon become a real-world solution.