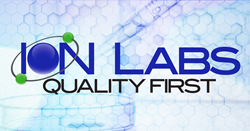 TAMPA, Fla. (PRWEB) May 09, 2018
Ion Labs' Research & Development team emphasizes innovation and quality by design. That is the reason why the contract manufacturing operation is consistently breaking new ground in the industry. They follow in-house, proprietary Quality Development system which ensures the quality of the product is always met as well as Process engineering principles are used for the manufacturing.  This system ensures measured efficacy throughout the life cycle of the product.
The in-house R&D team consists of formulation engineers, Chemist, Process Engineers and lab specialists.   There is a built-in diversity to the Ion Labs' R&D team ensuring that all aspects of any project will have an authority.  This allows team members who specialize in areas such as flavoring, reverse engineering, cosmetic formulations and even liquid capsules.  These valued members of the Ion Labs R&D team are some of the key reasons major brands choose Ion Labs as their manufacturer.
Once a customer, a client will have full service access to:

First hand product consulting with the Research & Development team
Design and product messaging recommendations by the Marketing & Design team
Superior communication and operation updates from Sales & Customer Service
In-house laboratory product testing and analysis
Integrated fulfillment and shipping; private label dropship
Ion Labs guarantees three main components to every client: transparency, trust and traceability. Transparency in their operations and communication. Trust in their methodology and experienced staff, and traceability in the high-quality products they develop and continue to test for stability year-after-year. When businesses decide to partner with Ion Labs and become a customer, they come on-board with the idea to recreate existing products from their already successful catalog and continue to create new products to build their portfolio.
Private label supplements along with custom supplement manufacturing are available with Ion Labs. Ion Labs is also one of the key private label skin care manufacturers in the USA.