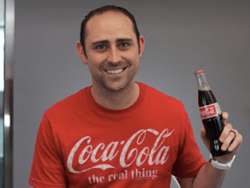 Chad's dedication and enthusiasm for creating great customer experiences is truly admirable.
SALT LAKE CITY (PRWEB) May 10, 2018
SpinGo, the event technology and innovation platform, announced that Chad Taylor, Director of Partner Success, has been named the recipient of a Bronze Stevie® Award for Customer Service Executive of the Year, for his outstanding work with SpinGo customers and support teams.
With years of customer service experience under his belt, Chad is able to manage and direct several customer service teams simultaneously, and provide the very best support experience for SpinGo customers. In addition to customer support, Chad also manages onsite tech support and remote tech support for events. Because of his dedication to providing excellent support experiences, SpinGo's onsite support services have grown to include new product offerings that further aid event makers in onsite logistic prep.
"We are so unbelievably proud of Chad's continuous accomplishments" said Kreg Peeler, Founder & CEO of SpinGo. "Chad's dedication and enthusiasm for creating great customer experiences is truly admirable and we are so grateful to have him on our team."
Nicknamed the Stevies for the Greek word meaning "crowned," the awards will be presented to winners at a gala ceremony at the Marriott Marquis Hotel in New York on Monday, June 11.
More than 3,700 nominations from organizations of all sizes and virtually every industry were submitted this year for consideration in a wide range of categories like Executive of the Year, Best New Product or Service of the Year, and Marketing Campaign of the Year. In 2014, SpinGo was awarded the Gold Stevie® for Tech Startup of the Year and Fastest Growing Tech Company.
More than 200 professionals worldwide participated in the judging process to select this year's Stevie Award winners.
"The nominations submitted for The 2018 American Business Awards were outstanding. The competition was intense, and those recognized as Stevie Award winners should be immensely proud of this accomplishment," said Michael Gallagher, president and founder of the Stevie Awards.
The American Business Awards are the U.S.A.'s premier business awards program. All organizations operating in the U.S.A. are eligible to submit nominations – public and private, for-profit and nonprofit, large and small.
Details about The American Business Awards and the list of 2018 Stevie winners are available at http://www.StevieAwards.com/ABA.
For more information about Spingo, please visit http://www.spingo.company.
About Stevie Awards
Stevie Awards are conferred in seven programs: the Asia-Pacific Stevie Awards, the German Stevie Awards, The American Business Awards®, The International Business Awards®, the Stevie Awards for Women in Business, the Stevie Awards for Great Employers, and the Stevie Awards for Sales & Customer Service. Stevie Awards competitions receive more than 10,000 entries each year from organizations in more than 60 nations. Sponsors of The 2018 American Business Awards include HCL America, John Hancock Financial Services and SoftPro.
About SpinGo
SpinGo is an event technology and innovation company that helps event makers keep up with the rapidly changing event scene. SpinGo provides event makers with tailored solutions for online and onsite ticketing, event management software, and digital marketing services.