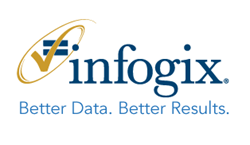 With the increase in data consumption across the organization, there needs to be a common language that defines the data, determines its origin, locates users, identifies its movement, ensure its quality, and more.
NAPERVILLE, Ill. (PRWEB) May 09, 2018
Infogix, Inc., a leading data and analytics software provider, today announced a series of corporate accomplishments for fiscal year (FY) 2018, which ended March 31, 2018. The milestones include growth in Infogix Data3Sixty® data governance and big data solutions revenue, significant product enhancements, the addition of more than a dozen new logos, and two more strategic acquisitions.
Product Momentum
A recent report projected that the data governance market will grow from USD 1.31 billion in 2018 to USD 3.53 billion in 2023, at a compound annual growth rate (CAGR) of 22 percent during the forecast period. Statistics like these aren't the exception, they're the norm, and with the explosion of data, organizations are arming themselves with data governance programs to maximize and monetize data assets that can generate analytics to drive better business decisions. Infogix has seen this trend firsthand, as the organization experienced a 300 percent increase in customer agreements for data governance and big data solutions.
"With the increase in data consumption across the organization, there needs to be a common language that defines the data, determines its origin, locates users, identifies its movement, ensure its quality, and more. As organizations dig out from siloed data usage, they realize the benefits of a data governance framework mean information they can trust," said Emily Washington, senior vice president of product management at Infogix. "Maximizing data value promotes data understanding, accessibility, usability, and utilization for better decision making and increased revenue."
As the organization looks ahead, they anticipate a more significant focus on empowering and enabling the business user of their data governance and analytics platform, Infogix Data3Sixty®. Currently, the solution allows technical and business users alike to interact with data. With a suite of self-service capabilities for visual data prep, interactive reporting, case management and collaboration, business users can easily define, track, and manage all aspects of their data assets. The results are simplified collaboration, knowledge-sharing, and user empowerment through transparency across the enterprise.
"The future holds an even greater focus on helping our customers grow and leverage big data to meet their business objectives," said Washington. "After analyzing market trends and understanding our customers' priorities, we will continue to concentrate on closing the gap between business and technical data users by enhancing collaboration and automation capabilities for both metadata collection and transactional data management."
Positioned for Expansion and Growth
During its FY 2018, Infogix acquired two companies—Data Clairvoyance Group and Lavastorm. Data Clairvoyance, a leading data strategy consultancy, bolsters Infogix's data governance capabilities and its ability to advise clients on data management strategies and solutions. Their strategic services and framework are the perfect complement to the Infogix Data3Sixty platform.
The acquisition of Lavastorm fuses Infogix's data management background with Lavastorm's data preparation and advanced analytics capabilities, strengthening Infogix's data preparation capabilities and providing Lavastorm customers with a leading data governance solution. The result is a streamlined approach enabling IT, data experts and business process owners to extract, prepare and analyze data from various sources in record time by leveraging more intuitive, visual interfaces.
"Our two key acquisitions in FY 2018 broaden our ability to provide a total end-to-end big data solution that allows customers to fully maximize the value of their data for 2019 and beyond," said Early Stephens, CEO of Infogix. "This year, we plan to continue our aggressive acquisition strategy, invest heavily to evolve Infogix Data3Sixty, enlarge our partnership ecosystem, and expand the scope of our solution offerings to new and varied verticals."
To learn more about Infogix, visit http://www.infogix.com or @infogix.
About Infogix, Inc.
Integrity is fundamental in data, just as in business. Infogix's data integrity and data governance solutions, powered by advanced analytics and big data, ensure that organizations can maximize the value of their data. Data's value is unlocked when users trust that data is accurate, can operationalize insights from raw data, and all stakeholders understand and agree on what data means. For 35 years, our global customers have relied on Infogix data and analytics software solutions to reduce risk, support regulatory compliance, improve profitability and substantially enhance operational efficiencies. To learn more visit http://www.infogix.com or @Infogix.