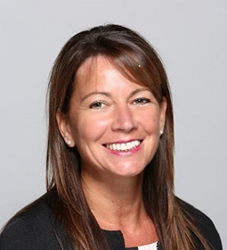 Ms. Kaliban returns to the AppRev Team.
TEMPLE, Texas (PRWEB) May 09, 2018
Prior to joining Capio Partners, Rhonda served as Vice President of Sales & Marketing at AppRev, where she led Business Development, Marketing, Reference Site, Account Management, and Strategic Partnership programs. Combined with her experience at IDX Systems and GE Healthcare, Ms. Kaliban has over twenty years of healthcare revenue cycle experience, and holds a MBA from Tulane University and a Bachelor of Arts from Middlebury College. 
Rhonda will focus on developing and managing strategic relationships and engagements with current and prospective customers.
"I'm so happy to be back with the AppRev team," said Ms. Kaliban. "It's an exciting time of growth and development, and I'm really looking forward to contributing to AppRev's continued success."
"We are delighted at Rhonda's return, it's like the band is back together," said Seth Avery, President and CEO of AppRev. "Her knowledge of the healthcare finance industry and experience in hospital revenue cycle management is a valuable asset to our operations."
AppRev is a privately held Healthcare Business Intelligence company based in Temple, Texas, providing services and technology to more than 80 hospitals throughout the United States and Bermuda. AppRev delivers results through services and technology that allow hospitals and clinics to improve revenue cycle performance. The company's solutions are provided via web delivered Service Supported Software™ and in Charge Accuracy, Charge Review, Denials Intelligence, Pricing Analytics, CDM and DSH services. All AppRev solutions employ ongoing measurement of revenue cycle improvements and can be tailored to meet customer-specific requirements.