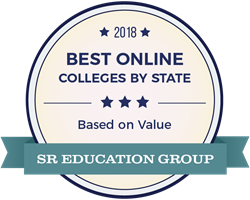 California has the highest number of schools offering online programs at 122, and Texas is a close second with 102.
(PRWEB) May 09, 2018
Today, SR Education Group, a leading education research publisher founded in 2004, released its first ever online college rankings categorized by state. To develop the 2018 Best Online Colleges By State Rankings, the organization only considered states with at least five regionally accredited schools offering at least one fully online bachelor's degree. Thirty-five states have their own ranking pages, and a total of 446 schools are included on the lists.
The state-specific rankings include anywhere from five to 25 schools. Schools are ranked based on affordability and academic strength. All annual tuition rates were confirmed with either a school representative or The National Center for Education Statistics (NCES). Program data including available online degrees, certifications, and concentrations was collected from official school websites, reflecting data for the 2017-2018 school year. In-depth detail on ranked schools, such as the acceptance rate and school accreditation, is also included in the reports.
Of the 50 states, Wyoming has the lowest average annual tuition at $8,840 for its six online colleges. California has the highest number of schools offering online programs at 122, and Texas is a close second with 102. For states that do not have rankings, complete lists of all online schools are provided in a comprehensive resource. The resource lists 2,631 schools offering distance education programs, organized by state. On this page, students will find complete school listings, annual tuition rates, and locations for each school.
SR Education Group will be updating the online colleges by state resources annually. These rankings were created in hopes of making the college search process more accessible for prospective students who are looking for schools by state. The organization will be continuing its research of online colleges throughout this year, and publishing over 100 program-specific rankings in 2018 to help connect prospective students with schools offering online programs that are high quality, affordable, and based in value rather than prestige alone.
About SR Education Group
Headquartered in Kirkland, WA, SR Education Group was founded in 2004. The company creates authoritative online resources for students seeking an education that best suits their budget and career aspirations, and currently provides over $250,000 in needs-based scholarships to students each year. SR Education Group is passionate about making quality education attainable for everyone and believes that objective information about education, careers, and educational financing should be free and easily accessible. For more information, please visit https://www.sreducationgroup.org/.