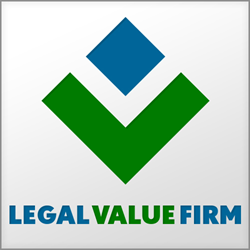 Founding attorney Joe Donnini states, "Law practice is definitely changing, and the timing is perfect to redefine access and delivery of legal services. With our new shopping center concept, we have positioned our brand to be a solution of the future for many consumers/small businesses and attorney
TORRANCE, Calif. (PRWEB) May 10, 2018
Imagine a world where taking care of your legal needs is as easy as getting groceries. Instead of dealing with tall office buildings, barriers and gate-keepers of traditional law practice, you could park, walk in, and speak to an attorney within seconds, without the fear of the billable hour. Legal Value Firm® has made this scenario a reality since opening in January of 2014.
Legal Value Firm® is a full-service law firm with attorneys practicing in a wide variety of legal matters, on mostly flat fees, in professional retail space. This paradigm has offered clients a whole new alternative: easy access and affordable legal services in a branded, neighborhood Legal Value Firm®.
Now in its fifth year, Legal Value Firm® is launching its franchise program through Legal Value Franchise, Inc. This franchisor will offer education, training and support on client development, marketing, operations and overall business management. Attorney franchisees will be able to use their independent judgment in their practice of law, and still be in business for themselves but not by themselves. Prospective licensed attorney franchisees (see disclaimer) may be newly licensed attorneys, seasoned attorneys that want to convert their practice or operate it in addition to Legal Value Firm®, or larger firms that want to capture more market share (analogous to hotels that have various brands under their portfolio).
Founding attorney Joe Donnini states, "Law practice is definitely changing, and the timing is perfect to redefine access and delivery of legal services. With our new shopping center concept, we have positioned our brand to be a solution of the future for many consumers/small businesses and attorneys, too."
Currently, Legal Value Firms® franchises are initially being offered in Arizona, with other states pending.
Disclaimer:
No communication made through this email or legalvaluefirm.com or legalvaluefranchise.com should be construed as an offer to sell any franchise to, nor is any such communication directed to, the residents of any jurisdiction requiring the registration of the franchise before it is offered or sold in the jurisdiction. No franchises will be sold to any resident of any such jurisdiction until the offer has been exempted from the requirements of, or duly registered in and made effective by, such jurisdiction, and the required Franchise Disclosure Document (if any) has been delivered to the prospective franchisee before the sale, in compliance with applicable law.
Thank you for your time and consideration.
legalvaluefranchise.com
Visit us on Facebook: https://www.facebook.com/Legal-Value-Franchise-385310871946490/?modal=admin_todo_tour