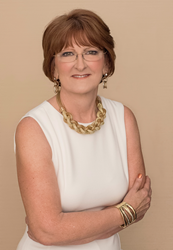 "Aging-in-place design will play a significant role in preparing our aging society for the future," ~ Bonnie J. Lewis
PHOENIX (PRWEB) May 09, 2018
Scottsdale-based Bonnie J. Lewis, founder of 55+ TLC Interior Design, LLC, honored for aging in place home remodel
Bonnie J. Lewis, principal and founder of 55+ TLC Interior Design, LLC, won the National Association of Home Builders (NAHB) Remodelers prestigious Homes for Life Award for a Major Space Remodel during the NAHB Remodelers' annual awards ceremony.
The award-winning remodel was for the 1,500 square foot first floor of a home that was redesigned to enable two Holocaust survivor family members to age in place together. The client wanted to create a safe space for his mother and aunt, both in their nineties, one living with Alzheimer's and the other living with dementia.
Lewis designed a space that offered safer, more comfortable, beautiful surroundings, as well as dementia-supportive design that help alleviate some of the symptoms associated with dementia.
The national award-winning remodel included an ADA-compliant floor plan, which included a new first floor master suite with wider hallways and an accessible wardrobe closet, and a convenient new powder room. Lewis also raised the sunken living room to help prevent injuries and designed the bathroom with a curbless shower and a wheelchair-accessible vanity that she custom designed.
"My client's mother and aunt were so excited by the possibility that the house could be redesigned and remodeled so that they could live together," said Bonnie J. Lewis, founder of 55+ TLC Interior Design. "The challenge was quickly designing the home for current and future needs as well as making daily activities easier and safer, so they could age in place together at home and avoid a future move to assisted living, which could separate them."
The Homes for Life Awards recognize Certified Aging-In-Place Specialists (CAPS) designees for excellence in aging-in-place remodel design and/or accessible home modifications. Award-winning homes offer specific design or programmatic solutions that help residents continue living in their homes as they grow older and/or face physical challenges.
"It is truly an honor to win this prestigious award," said Lewis. "I believe aging-in-place design will play a significant role in preparing our aging society for the future, by allowing people that want to live their retirement years at home to maintain their independence longer."
To learn more about Bonnie J. Lewis and 55+ TLC Interior Design, LLC, visit https://55plustlc.com or call (480) 696-3187 today.
About Bonnie Lewis
Bonnie Lewis, Allied ASID, Assoc. IIDA, CAPS, is the principal and founder of 55+ TLC Interior Design, LLC. She is a degreed, highly-specialized senior living interior designer and Aging in Place remodel designer. Bonnie is passionate about improving physical environments to support psychological, emotional and physical wellness to help people enjoy their "second chapter in life". Since founding the firm in 2013, her distinctive design portfolio has claimed twenty national and regional design awards for commercial and residential Senior Living, Aging in Place and Universal Design spaces that are beautiful, functional and reliable for Boomers and Seniors to live longer, more productive lives.