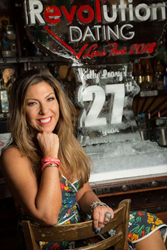 We truly believe that love conquers all, and we work hard to spread the word that love makes the world a better place
PALM BEACH GARDENS, Fla. (PRWEB) May 09, 2018
On April 30, leading Florida matchmaking service Revolution Dating hosted its annual Love-Fest event to raise money for the Parkland Strong/Stoneman Douglas Fund via The Broward Foundation. Revolution Dating partnered with Rocco's Tacos, Tito's Vodka, The Broward Education Foundation, The Fite Group and others for this successful "party for a purpose." The event was emceed by Jonathan Duerr, last year's Man of the Year runner-up for The Leukemia and Lymphoma Society, along with DJ Rey Verges and saxophonist Reginald Ellison, who provided musical entertainment.
As it has done every year for its anniversary, Love-Fest brought together the area's most attractive and eligible singles, along with multiple couples who successfully found each other through Revolution Dating's services. Revolution Dating has been helping people find love for 27 years. Guests were treated to complimentary Tito's Vodka drinks and Rocco's Taco's appetizers and were encouraged to donate as much as they could to the Stoneman Douglas Fund.
"The heart and soul of Revolution Dating is love, community and connection," said Revolution Dating Founder and President Kelly Leary. "We truly believe that love conquers all, and we work hard to spread the word that love makes the world a better place. We thank our incredible partners in this event, who have been absolutely amazing and have such an admirable dedication to helping others and giving back for the greater good. Our guests came together to celebrate and give support, all in the name of love."
Throughout her successful decades in the dating business and using her Master's Degree in Clinical Psychology, Leary has perfected the art of matchmaking. Under Leary's expert guidance, Revolution Dating has clearly distinguished itself as a premier dating service with an elevated level of customized services and a genuine focus on building lasting relationships.
To continue supporting the honored cause, donate by visiting http://www.gofundme.com/stonemandouglasvictimsfund.
South Florida and Treasure Coast singles interested in learning more about should visit http://www.revolutiondating.com or call 561-630-XOXO (9696).
About Revolution Dating
Revolution Dating is an exclusive Florida matchmaking service that helps single, divorced or widowed men and women find friendship and romance. With clients ranging from Vero Beach to Broward County, the company goes far beyond online dating and hosts a wide variety of events and provides individually tailored matchmaking and coaching. Reach Revolution Dating by phone at 561-630-XOXO (9696) or online at http://www.revolutiondating.com.
Consultations are available by appointment at either of our locations:
5090 PGA Boulevard, Suite 208, Palm Beach Gardens, FL 33418
550 Fairway Drive, Suite 110, Deerfield Beach, FL 33441