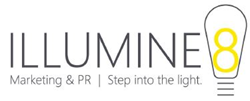 "This international award wouldn't have been possible without the partnership of our clients and dedication of our staff. We are thrilled to share this win with Cochran & Mann."
FREDERICK, Md. (PRWEB) May 10, 2018
Illumine8 Marketing & PR of Frederick, Maryland, is a 2018 Gold Winner of a Hermes Creative Award .
The agency submitted a content marketing offer for Cochran & Mann, a commercial painting company in Frederick, Maryland, called Guide To Hiring A Commercial Painting Contractor. The submission was for Electronic/Social/Interactive Media in the E-Communication category and iBook/E-Book subcategory.
"We are honored to see our work recognized by Association of Marketing and Communication Professionals (AMCP)," Christina May, CMO and founder of Illumine8, said. "This international award wouldn't have been possible without the partnership of our clients and dedication of our staff. We are thrilled to share this win with Cochran & Mann."
According to the Hermes Creative Awards , more than 6,000 submissions were expected across the United States, Canada, and other countries by corporate marketing and communication departments, advertising agencies, public relations firms, design shops, production companies, and freelancers.
The "international awards competition [is] for creative professionals involved in the concept, writing, and design of traditional and emerging media. Hermes Creative Awards recognizes outstanding work in the industry while promoting the philanthropic nature of marketing and communication professionals."
The nominations are administered and judged by the AMPC, an "international organization [that] consists of several thousand marketing, communication, advertising, public relations, media production, and freelance professionals."
About Illumine8 Marketing & PR
Illumine8 is an marketing consultancy that combines business strategy, creativity, and customer-focused sales practices to deliver sustainable and measurable results to help our clients meet and exceed their growth goals. More information can be found at http://www.illumine8.com .