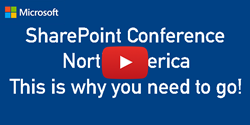 SharePoint Conference North America has returned!
LAS VEGAS (PRWEB) May 10, 2018
If you aim to get the most value out of your productivity and collaboration solutions from Microsoft, attend the conference. And, exposure to the most current, cutting edge ideas is a sure way to stay ahead of the curve on the future of these essential business tools.
VisualSP CEO, Asif Rehmani, is scheduled to speak at the event in 4 different sessions. He is joined by other most acclaimed presenters and decision makers at Microsoft.
VisualSP provides a context sensitive self-help add-on application for SharePoint and Office 365. The solution automates end-user support and ensures sustainable adoption of the Microsoft platforms. To see how it works, check out a free demo at: https://www.visualsp.com/experience-visualsp/.
"SharePoint Conference North America is a great opportunity for IT professionals, developers, and power users to meet and connect with peers from cities and countries around world. It's a great venue to discover current strategies, proven tools, and best practices in the industry", says Rehmani.
It always helps to listen to other organization's stories, experiences, and case studies.
Co-produced by Microsoft and sponsored by major business solution providers, the event gives you a chance to learn from experts on topics ranging from cloud solutions to end-user adoption strategies. Governance, communication sites, hybrid deployment, and many more crucial topics are on the agenda.
When talking about the scope of attendees, Rehmani explains that the conference sessions are tailored for both beginners and gurus. In addition to focusing on SharePoint, OneDrive, and Office 365, discussions cover all other major Microsoft productivity and collaboration platforms and applications, including Yammer, Teams, and Power BI.
"When industry experts, Microsoft engineers, MVPs, and many other certified professionals talk, expect exclusive content, hands-on workshops and great professional networking opportunities", adds Rehmani. "And more importantly, have your questions answered in over 170 sessions by over 100 Microsoft experts and over 50 more industry thought leaders".
To bring fun to the party, The B-52s are performing live at the event.
WATCH THIS SHORT VIDEO to find out why you need to be there and join over 8,000 attendees!
Use the coupon code 'VISUALSP100' to get a $100 discount on your ticket purchase.
To get more details, go to the event details page. You may also call 630-786-7026, or contact sales@visualsp.com.