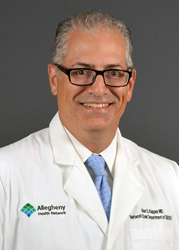 This beautiful new facility will enable people in the North Hills to access high-quality, state-of-the-art health services closer to where they live and work, and I am extremely honored and proud to play such a prominent role in its development and success.
PITTSBURGH, PA (PRWEB) May 10, 2018
Allegheny Health Network (AHN) announced today that one of its top clinical leaders will take the helm at a new full-service hospital it plans to open in Pine Township in 2021. Allan Klapper, MD, an obstetrician and gynecologist who currently serves as chair of AHN's Women's & Children's Institute, has been appointed as president of the new 160-bed facility that will be integrated with AHN's existing Wexford Health + Wellness Pavilion. AHN received approval on its plans this week from the Pine Township Board of Supervisors and expects to break ground on the hospital this summer.
Like the Health + Wellness Pavilion, AHN's Wexford Hospital will serve an area with a population of more than 215,000 people. The hospital will offer a wide array of clinical services, including many that community residents are currently traveling into Pittsburgh to receive. The facility will complement the network's many outpatient services in the market, including those at the Pavilion, AHN's nearby Pediatric Orthopaedic Institute, and other facilities and physician offices.
"The appointment of Dr. Klapper to this important role is another example of AHN's commitment to cultivating and empowering strong physician leaders to drive our patient-centered mission and vision," said Cynthia Hundorfean, AHN President and CEO.
"Dr. Klapper is an exceptional clinician and a physician leader whose dedication to service excellence and high quality care reflects the values of AHN and Highmark Health," Hundorfean said. "He has been instrumental in helping to design our new Wexford hospital and we look forward to the outstanding leadership he will provide at this unique facility as we move forward with our efforts to best serve the people of northern Allegheny County and the surrounding area."
Since joining AHN in 2011, Dr. Klapper has overseen a nationally recognized women's health program that has grown significantly; it now has more than 125 affiliated physicians and more than 50 care sites throughout the western Pennsylvania region. Under his direction, the AHN Women's & Children's Institute has developed innovative, multidisciplinary programs to care for the complete spectrum of women's health issues, including for some of the most at-risk and underserved communities.
Among many such accomplishments, Dr. Klapper and his team opened the state's first new obstetrics program in more than 30 years at AHN's Jefferson Hospital in 2014. The Network now delivers babies at four hospitals, with more than 7,400 delivered in 2017. They also launched a medical home care model called Perinatal Hope to better treat mothers-to-be who are addicted to drugs, and their babies, and have developed an innovative program to better identify and treat women with perinatal depression.
"The growth and success of our women's health program has been driven largely by a focus on providing women with an unsurpassed healthcare experience at every step in the care continuum," said Dr. Klapper. "That is the same philosophy behind our vision for the new AHN Wexford hospital. This beautiful new facility will enable people in the North Hills to access high-quality, state-of-the-art health services closer to where they live and work, and I am extremely honored and proud to play such a prominent role in its development and success."
Dr. Klapper received his medical degree from the Mount Sinai School of Medicine and completed his residency at New York University Medical Center. He joined AHN from New York Downtown Hospital, and prior to that, was director of Gynecology, Urogynecology & Pelvic Reconstructive Surgery, and director of the Center for Female Continence and Pelvic Health at Beth Israel Medical Center.
Dr. Klapper's published work has focused on research exploring the most effective therapies for interstitial cystitis, urinary incontinence, pelvic pain, and pelvic organ prolapse. He is also a clinical professor at the Lewis Katz School of Medicine at Temple University.
###
About the Allegheny Health Network
Allegheny Health Network (AHN.org), a Highmark Health company, is an integrated healthcare delivery system serving the greater Western Pennsylvania region. The Network is composed of eight hospitals, including Allegheny General Hospital, its flagship academic medical center in Pittsburgh, Allegheny Valley Hospital in Natrona Heights, Canonsburg Hospital in Canonsburg, Forbes Hospital in Monroeville, Jefferson Hospital in Jefferson Hills, Saint Vincent Hospital in Erie, West Penn Hospital in Pittsburgh and Westfield Memorial Hospital in Westfield, NY. The Network provides patients with access to a complete spectrum of advanced medical services, including nationally recognized programs for primary and emergency care, cardiovascular disease, cancer care, orthopedic surgery, neurology and neurosurgery, women's health, diabetes and more. It also is home to a comprehensive research institute; Health + Wellness Pavilions; an employed physician organization, home and community based health services and a group purchasing organization. The Network employs approximately 19,000 people, has more than 2,800 physicians on its medical staff and serves as a clinical campus for Drexel University College of Medicine, Temple University School of Medicine, and the Lake Erie College of Osteopathic Medicine.