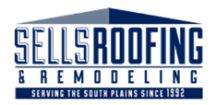 PLAINVIEW, Texas (PRWEB) May 10, 2018
Sells Roofing & Remodeling, the company servicing the Plainview, TX area and caring for homes "from the inside out," is celebrating 25 years of business.
"Before I branched out on my own, I worked for my father, Glenn, who started his own business, Sells Roofing & Construction in 1966," says owner/operator David Sells. "Now a third generation of Sells are working in the family business. My sons, Brantlee and Quinten have joined the company."
Sells continues, "Living is Plainview, we get a lot of different weather. From high winds to hail storms, Plainview has several weather events per year that keep me and my two sons busy! We recommend that homeowners have their roofs inspected by a qualified, experienced professional every 2-3 year. This inspection can catch little issues before they turn into big, expensive emergencies. For example, a small roof leak may seem minor at the time, but over a few weeks could be a major source of water ingress that causes mold within the building envelope. Neglecting roof issues always leads to bigger problems that affect the entire home."
Sells believes in providing personalized customer service, personally does a site visit and first quote for each new customer. Customers are assured that a true professional with over 25 years of experience will be inspecting, quoting, and installing their new roof, roof repair, or renovation.
To learn more, visit sellsroofing.com/roof-installation/ today.
About Sells Roofing
Since 1992, Sells Roofing & Remodeling has been a top choice for Plainview and area residents in need of roofing and renovating services. The company specializes in roof installations, roof repair, and kitchen and bathroom remodels. Sells Roofing & Remodeling enjoys an A+ rating with the BBB.
Contact Details:
David Sells, Owner/Operator
Sells Roofing & Remodeling
Plainview, TX 79072
sellsroofing(at)hotmail.com
https://sellsroofing.com
(806) 293-1031
Source: Sells Roofing & Remodeling
###