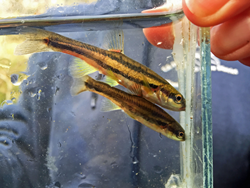 "We're getting more eggs weekly. It seems promising that we'll be able to develop the right methods to propagate them and eventually reintroduce them in the future." - Meredith Harris, Tennessee Aquarium Reintroduction Biologist
CHATTANOOGA, Tenn. (PRWEB) May 10, 2018
Eighteen months after being rescued from rapidly dwindling streams on Walden Ridge north of Chattanooga, the embattled and endangered Laurel Dace finally has cause to celebrate.
More than 450 juveniles of this green-bodied, red-bellied native fish recently hatched from eggs spawned at the Tennessee Aquarium Conservation Institute. These tiny, nearly-translucent fry are the offspring of 29 adult Laurel Dace living at the institute. This population — or brood stock — is being kept at the institute to propagate this federally endangered fish and includes 19 adults recently collected from Bumbee Creek in Rhea County and 10 rescued from the same stream during the historic drought that baked the Southeast in the latter half of 2016.
"Recent surveys have indicated that the Laurel Dace are persisting in only two streams out of their historical range of eight," says Tennessee Aquarium Reintroduction Biologist Meredith Harris. "This puts the species at a higher risk of extinction whenever we experience extreme weather events."
In November 2016, the Southeast was in the grips of a historic, months-long drought. This catastrophic dry spell withered the streams where the Laurel Dace was known to exist, transforming them into rapidly diminishing pools of water in which the few remaining populations were isolated and trapped.
The Laurel Dace was already struggling due to runoff sedimentation from area farms. Due to poor agricultural practices, silt blanketed the bottom of its native waterways, smothering its eggs and any newly hatched larvae. The regional drought represented the second blow in a potentially knock out combination.
Faced with the prospect of losing the species entirely, biologists from the Tennessee Aquarium Conservation Institute and U.S. Fish and Wildlife mounted a rescue operation. The scientific teams visited creeks on the Cumberland Plateau known to house Laurel Dace. There, they collected 18 individuals to help safeguard against the possibility of extinction.
Eventually, the rains returned, the creeks rose and the remaining Laurel Dace held on to their tenuous existence. Some of the rescued fish were retained in human care, however, so scientists could determine how most effectively to care for them and the best methods to propagate them.
For a species that's on the brink and under-studied, developing these protocols is a critical step to ensuring scientists can safeguard it from future calamities, Harris says.
"We've been doing reintroduction and propagation protocols with many other species at the Conservation Institute, but this is the first time that we've worked with anything in this group of minnows. It's very different," she says. "We're feeling our way through it, but the results look really promising so far."
The appearance of hundreds of baby Laurel Dace in the propagation room at the Tennessee Aquarium's freshwater science center speaks to the success of that effort and represents an important step in securing a better future for the species, she adds.
"We're getting more eggs weekly," she says. "It seems promising that we'll be able to develop the right methods to propagate them and eventually reintroduce them in the future."