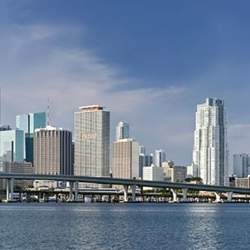 The presenters at the first EFB Users conference set a high bar for providing current, relevant, and actionable information.
MIAMI (PRWEB) May 10, 2018
Registration is open for the next EFB Users Forum to be held May 15-17, 2018. This conference will be hosted by Avionica at the Miami Marriott Dadeland Hotel. Many airlines had no EFB program when we started the Forum in April 2010. Today, the EFB Users Forum is the world's largest conference dedicated to EFB, and regularly attracts over 300 participants from around the globe.
The presenters at the first EFB Users conference set a high bar for providing current, relevant, and actionable information. In Miami, the forum will review the latest Regulatory developments, progress in Security and Connectivity, advances in Mobile Applications, and Airline Operator Experiences. Attendees will get candid answers direct from the authorities on each of these subjects, and can even chat with them during one of the breaks or at lunch. Attendees also will hear from different airlines that have never previously presented at the Forum.
A supplier exhibition also will be included. It will include airframers, hardware and software suppliers, system integrators, and service providers who will showcase their products and services. The EXPO will include a standup buffet featuring local favorites and drinks from 2-4 p.m. Please be sure to stop by to see the latest offerings.
For those who plan to exhibit, please make your arrangements with Lori Hess at: lorine.hess@sae-itc.org.
For those planning to attend but have not yet registered, please do so using this link:
https://www.aviation-ia.com/conferences/electronic-flight-bag-efb-users-forum
Those who do not pre-register will have to do so manually at the door. There are a limited number of rooms available at a special discounted rate.
For hotel reservations, CLICK HERE to book your group rate for EFB Users Forum 2018 Room Block.
Participants in the EFB Users Forum have led and witnessed significant change in the last eight years. Be sure to join us, share ideas, and get involved. The EFB Leadership Team and hosts at Avionica, look forward to seeing attendees in Miami!
Exhibit and brand recognition opportunities are available at the EXPO, sponsorships, and mobile app. For more information see: https://www.aviation-ia.com/sites/default/files/EFB%20Exhibitor%20and%20Sponsor%20Information%20packet.pdf
ARINC Industry Activities (ARINC IA) (http://www.aviation-ia.com) is a SAE ITC (Industry Technologies Consortia) program.
The SAE ITC team specializes in establishing and managing consortia by providing proven processes, tools and resources. SAE ITC enables public, private, academic and government organizations to connect and collaborate in neutral, pre-competitive forums thus empowering the setting and implementation of strategic business improvements in global highly engineered industries. (http://www.sae-itc.com)
SAE ITC is an affiliate of SAE International. SAE International is a global association committed to being the ultimate knowledge source for the engineering profession. By uniting over 127,000 engineers and technical experts, we drive knowledge and expertise across a broad spectrum of industries. We act on two priorities: encouraging a lifetime of learning for mobility engineering professionals and setting the standards for industry engineering. We strive for a better world through the work of our philanthropic SAE Foundation, including programs like A World in Motion® and the Collegiate Design Series™.
The views and conclusions contained herein are those of the authors and should not be interpreted as necessarily representing the official policies or endorsements, either expressed or implied, of the U.S. Government.

Contact:
Peter H. Grau
Lead Principal Engineer
SAE-ITC, ARINC Industry Activities
16701 Melford Blvd. Ste. 120
Bowie, MD 20715
peter.grau@sae-itc.org