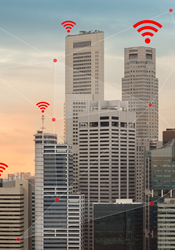 NEWARK, N.J. (PRWEB) May 11, 2018
It was roughly one year ago that the New Jersey-based Arkados Group Inc. closed a previously announced acquisition of SolBright Renewable Energy LLC based in South Carolina to create Solbright Group Inc.
Today, the combined company is poised to make a major impact on a growing business segment and looks much different than it did five years ago when it was operating as two separate entities.
Initially SolBright was a provider of turnkey development, engineering, procurement and construction (EPC) services for the commercial, industrial and military solar photovoltaic (PV) markets, while Arkados was a software development and systems integration company enabling Internet of Things (IoT) applications for commercial and industrial customers.
For those unfamiliar, the IoT is a network of physical objects — devices, vehicles, buildings and other items embedded with electronics, software, sensors and network connectivity — that collect and exchange data.
Today, Solbright Group is a multi-faceted energy services and technology company that leverages their proprietary BrightAI™ IoT platform with energy efficiency services in order to achieve sustainable results that provide their commercial and industrial clients with a positive return on investment.
By providing end-to-end energy conservation solutions, depending upon the size and scope of the projects they work on, Solbright can save their customers tens if not hundreds of thousands of dollars in energy cost over time.
And because some of Solbright's clients operate large facilities across industry verticals in the private, public and defense sectors, several high profile organizations have directly benefited from these energy management solutions including: New Jersey Transit, Walmart, the U.S. Army and the U.S. Marines.
When Arkados closed on the purchase of Solbright last year, it paid $15 million in a combination of cash, debt and stock for essentially 100% of its assets including a backlog of about $40 million in distributed generation EPC projects and a large pipeline of other projects spread across the eastern U.S.
As a leader in sustainable energy, energy conservation solutions, and IoT technology, Solbright recognizes that businesses are leveraging the benefits of big data, real-time analytics and visualization to drive higher profitability. Their goals are to increase efficiency and productivity, enhance service to customers, reduce costs, improve safety and create new business opportunities.
The BrightAI™ software platform brings the IoT to commercial and industrial facilities, enabling a Software as a Service (SaaS) subscription model for predictable, recurring revenue savings.
Solbright Group, Inc. is an industrial automation and energy management company providing Industrial Internet of Things (IoT) solutions that help commercial and industrial facilities increase efficiency and reduce cost. They deliver technology solutions for building and machine automation and energy conservation that complement their energy conservation services such as LED lighting retrofits, HVAC system retrofits and solar engineering, procurement and construction services. Their focus is towards the development and commercialization of an IoT software platform that supports Big Data applications that complement their energy management services.
To learn more about Solbright Group, Inc., visit their Website at https://www.solbrightgroup.com