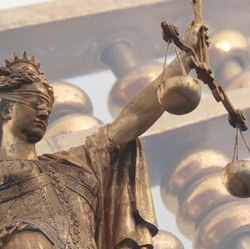 "I'm proud and fortunate to now be part of Eva's Village community," Honoree Patricia Barbarito, Esq.
Paterson, NJ (PRWEB) May 18, 2018
Eva's Village will host a dinner for New Jersey lawyers and accountants on Thursday, May 31, at The Madison Hotel in Morristown, NJ. This new event will raise awareness and vital funding for more than 20 programs at Eva's that serve thousands of men, women and children struggling with poverty, homelessness, and addiction each year. According to Gregory Floyd, Eva's Executive Vice-President of Mission, "this dinner gives us the opportunity to introduce the life-saving work of Eva's Village to many new people. By recognizing three individuals who are deeply committed to supporting our mission, we hope to shine a light not only on new services addressing the opioid crisis, but on the programs that have been providing hope and help for our neighbors in need for 36 years."
Patricia Barbarito, Esq. of Einhorn, Harris, Ascher, Barbarito and Frost, PC; John Cromie, Esq. of Connell Foley LLP; and Marqus White, CPA of Sax LLP, will be honored for their dedication and service to Eva's Village and the local community. "Having grown up in Paterson, I understand the shame and hardship that is associated with poverty, homelessness, and addiction; the work that Eva's does immediately pulled at my heartstrings. I'm proud and fortunate to now be part of their community," noted honoree Barbarito. Tickets, tables and digital ads are still available. Visit the event webpage for more information.
The event will highlight how Eva's addiction recovery program can change lives by building supportive bonds between counselors and clients. Angela Terry, a staff member at Eva's, and Howard Yerger, her former client, will speak about the connection they forged with each other. Ms. Terry, an alumna of Eva's before she became a counselor, is now Eva's Criminal Justice Services Coordinator. Funds raised will support the overall operations of Eva's Village as well as several programs - Eva's Community Kitchen, Medical and Dental Clinics and Childcare and Education - that depend entirely on private donations.
Last year, Eva's Community Kitchen served more than 500,000 meals; the Medical and Dental Clinic handled almost 6,000 patient visits; together, the treatment programs and Eva's Recovery Community Center engaged nearly 2,300 individuals in various stages of recovery, and Eva's shelter and housing programs provided a safe haven to over 600 adults and children.
More about Eva's Village
The mission of Eva's Village is to provide care and support for people who are struggling with poverty, hunger, homelessness, and addiction. Founded as a soup kitchen in 1982, Eva's Village began by serving 30 meals a day to feed the hungry in Paterson. Over the years, Eva's Village grew as programs and services were added to address the root causes of homelessness and poverty. Today, Eva's Village offers a range of integrated programs to help those in need move toward recovery, stability, and independence.