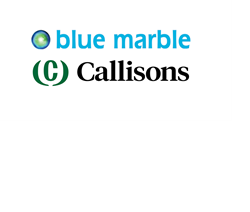 The cultural similarities of our companies have allowed us to innovate and open the doors to numerous opportunities in natural flavor modulation which will add new and unique aspects to the flavor industry." -Greg Biza, VP Innovation & Technology, Callisons
LACEY, Wash. and MISSOULA, Mont. (PRWEB) May 10, 2018
Blue Marble and Callisons are revolutionizing the flavor industry with an initial focus on experiential sensory materials. Both companies have been collaborating for some time and the unique synergies between the organizations allows them to innovate rapidly in the fields of flavor and oral care. These experiential materials in a natural format will offer new solutions for product developers, and most importantly, a clean and natural product for consumers.
"Working with Callisons is a natural fit for Blue Marble and I greatly appreciate the knowledge and creativity they possess, as it is in perfect step with how Blue Marble likes to work and operate both technically and culturally," said James Stephens, CEO of Blue Marble. "Our collaboration with Callisons has been one of the most fun for our team because we are working in natural compounds that create experiential flavors, a truly unique and innovative sector of the food industry. Personally, this is exciting because you wrap a story in the flavor, and it doesn't matter if it's cooling, heat, or other sensory impacts, it just gets the imagination going! And as an added bonus, every flavor is natural and non- GMO."
"We are very excited about our partnership with Blue Marble; the collaboration between Blue Marble and Callisons has been an incredible experience," said Greg Biza, VP Innovation & Technology at Callisons. "The cultural similarities of our companies have allowed us to innovate and open the doors to numerous opportunities in natural flavor modulation which will add new and unique aspects to the flavor industry."
Both organizations are exhibiting at the Institute of Food Technology (IFT) Trade Show July 15-18, in Chicago, Illinois. This year's show theme is called A Matter of Food and Science where trade show attendees will be able to innovate along with Callisons at booth #S4655 and Blue Marble at #S1662.
To learn more about the collaboration contact Rheanna Dorman at Blue Marble (rheanna.dorman(at)bluemarblebio(dot)com) or Customer Service at Callisons (orders(at)callisons(dot)com)
About Callisons
Callisons is a family-owned company with deep roots in the Pacific Northwest. From the start in 1903 through today Callisons has been constantly evolving and innovating to meet the demands of the market. Today, Callisons is the leading supplier of North American mint oils and flavors in the world. Along with the world-class mint portfolio, Callisons has an extensive library of non-mint flavors including herbal, fruit, sweet brown and more. More information about Callisons is available at callisons.com
About Blue Marble
Blue Marble is a world-leading innovation house specializing in biomimetic techniques, microbial polyculture, and natural product development. Since 2007 Blue Marble has continuously innovated in the realm of natural and nature inspired ingredients, manufacturing pathways, and product development. Blue Marble creates value for the communities it works with, for its partners, and for itself by deploying its unique, high-powered team to create solutions for partner problems. More information about Blue Marble is available at bluemarblebio.com