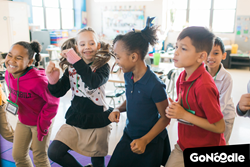 "As health professionals, educators and community members, we are committed to supporting parents and the school in their efforts to ensure our children engage in healthy eating and exercise programs..."
TRENTON, N.J. (PRWEB) May 14, 2018
Students in Trenton elementary schools are celebrating the incredible milestone of 650,000 minutes of physical activity documented with GoNoodle this school year.
GoNoodle is an online suite of interactive movement videos. It helps teachers motivate and engage students with 3-5 minute moderate to vigorous exercises they can perform next to their desks. Through the 2018-2019 school year, GoNoodle is available for free to every Trenton Public School and Diocese of Trenton elementary school classroom thanks to a 3-year sponsorship from St. Francis Medical Center and Novo Nordisk.
According to the CDC, only one-quarter of today's youth meet the current recommendation of at least 60 minutes of physical activity per day. Together with St. Francis and Novo Nordisk, GoNoodle is helping Trenton students accumulate vital movement minutes with entertaining experiences that feature high-energy dance music, fitness routines, virtual field trips and physical challenges. Through increased movement in the classroom, these elementary students are not only improving their health but also boosting their cognitive processing, focus and academic performance.
Kids and parents are also increasingly using GoNoodle at home turning screen time into active time. Parents can sign up for a free account and log in from home – providing a new outlet for summer activity.
"This paves the way for proactive health by making it a resource for our children," said Judy Rottkamp, Physician Liaison at St. Francis Medical Center.
The partnership between Novo Nordisk and the Trenton School District involves GoNoodle and other nonprofit agencies working together to provide opportunities for Trenton children to engage in healthy eating and exercise through the Ready, Set, Healthy! program. The program is designed to help improve the health and wellbeing of Trenton's young people by increasing knowledge about and access to healthy, affordable foods; provide more opportunities for physical activity; and give students, parents, and caregivers the tools to make healthy lifestyle choices. Novo Nordisk is a proud sponsor of the Ready, Set, Healthy! program.
"The number one health care crisis that our children are facing today is childhood obesity and the early onset of type 2 diabetes," said Genevieve Jean-Bart Fadayomi, Associate Director, U.S. Corporate Sustainability & Social Impact, Novo Nordisk. "As health professionals, educators and community members, we are committed to supporting parents and the school in their efforts to ensure our children engage in healthy eating and exercise programs that help them take control of their health now and into the future."
To use GoNoodle, teachers need to have a computer with an Internet connection and a shared screen such as a projector or interactive white board. Trenton teachers in the sponsored schools have access to over 300 online movement videos, including exclusive GoNoodle PLUS videos that bring movement and core-subjects together to develop fluency in grade-specific math and ELA topics. These short movement videos incorporate kinesthetic and active learning principles by closely tying movement with core content. Both energizing and calming videos are available to help teachers channel kids' energy for good while incorporating math, spelling and vocabulary.
Thanks to the sponsorship by St. Francis Medical Center and Novo Nordisk, teachers, kids and parents can access GoNoodle for free by visiting http://www.gonoodle.com.
About St. Francis Medical Center
St. Francis Medical Center, a member of Trinity Health, is an acute care teaching hospital recently ranked by Consumer Reports as one of the top ten hospitals in New Jersey for safety and number one in Mercer County. Most noted for its Cardiac Surgery program and the first accredited Stroke Center in Mercer County, St. Francis features regional services including the Heart Hospital, a Regional Cancer Center, a Sleep Disorder Center and an extensive Community Outreach Program. St. Francis' partners in care include LIFE St. Francis (Living Independently For Elders) and LifeCare Physicians, PC, which includes Primary Care and Surgery throughout the region, as well as Lourdes Health System (also a part of Trinity Health). St. Francis Medical Center and Lourdes Health System work together closely in serving the South Jersey community. 
About Novo Nordisk
Novo Nordisk, a global healthcare company, has been committed to discovering and developing innovative medicines to help people living with diabetes lead longer, healthier lives for 95 years. This heritage has given us experience and capabilities that also enable us to help people defeat other serious diseases including obesity, hemophilia and growth disorders. We remain steadfast in our conviction that the formula for success is to stay focused, think long term and do business in a financially, socially and environmentally responsible way. With U.S. headquarters in New Jersey and production and research facilities in four states, Novo Nordisk employs nearly 6,000 people throughout the country. For more information, visit novonordisk.us, Facebook and Twitter.
About GoNoodle
GoNoodle (launched in 2013), gets kids moving to be their smartest, strongest, bravest, silliest, bestest selves. GoNoodle is among the fastest adopted online resources used by elementary teachers; connecting movement, mindfulness and learning for their students. Delivering measurable gains in academics and health, GoNoodle's 100's of short interactive videos and games get kids moving throughout the school day, keeping them energized and focused, while introducing curricular topics, practicing mindfulness or just getting the wiggles out. GoNoodle supports teachers in optimizing learning opportunities while creating a joyful classroom. Currently, more than 14 million kids and over 650,000 teachers use GoNoodle each month. GoNoodle is used in 80% of U.S. public elementary schools in all 50 states and worldwide in 185 countries. Over 2 million families use GoNoodle at home, turning screen time into active time, either through gonoodle.com, apps for the iPhone and Apple TV and through the GoNoodle YouTube channel. Learn more at http://www.gonoodle.com.