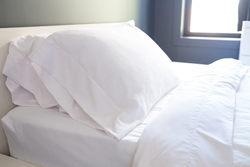 The self-sanitizing linens are bound with a proprietary active "silver lining" defending germs naturally while never washing out.
ASHEVILLE, N.C. (PRWEB) May 15, 2018
Safe Haven Linens™, proprietary germ-killing bed linens, announced a partnership with Cancer Horizons, the premier online portal exclusively for cancer patients and their support system. The partnership provides cancer patients with an exclusive 30% discount on Safe Haven Linens™ products, utilizing the code CH18. The bed sheets offer luxurious comfort and ultimate protection with patent pending antimicrobial properties.
Safe Haven Linens™ is changing the future with smart textiles. The self-sanitizing linens are bound with a proprietary active "silver lining" defending germs naturally while never washing out. The bed sheets work all the time to protect against germs and are chemical free. An added bonus, Safe Haven Linens™ are great for skin complexion, helping improve common problems such as acne, eczema, and other bacteria-borne conditions.
"It is an honor to partner with an organization such as Cancer Horizons to help make a difference in the fight against cancer. The online portal has tremendous compassion for patients, along with their family and friends. We know Safe Haven Linens can support optimal health when undergoing cancer treatments, as experienced first hand during Tedd's wife's battle with breast cancer," stated Founders of Beacon Linens, Steve Hutcherson and Tedd Smith.
We are thrilled to have Beacon Linens as a partner with the Cancer Horizons community, their product is one-of-a-kind and simply something we wish hospitals would adopt," expressed Steve Hansen, managing partner of Cancer Horizons.
Safe Haven Linens™ are available for the home as well as hospitals and clinics.
For more information about Safe Haven Linens™ or to take advantage of the discount through Cancer Horizons visit - https://www.cancerhorizons.com/sponsor/self-sanitizing-linens-that-kills-germs/
About Beacon Linens, Safe Haven Linens™ Parent Company
Experienced textile-manufacturing professionals founded Beacon Linens in 2013, reviving the Beacon brand, which dates back to 1904. For both home use and health care, including hospitals and long term care, Beacon's modern fabric constructions are designed for comfort, durability, environmental safety and consumer health. The company's patent pending Safe Haven™ brand of bed linens are self-sanitizing, incorporating a protective barrier that actively kills germs, molds, fungi and other bacteria known to cause harmful infections and skin conditions. For more information or to purchase: http://www. Beaconlinens.com
About Cancer Horizons
Pendulum International LLC, dba Cancer Horizons, founded in 2016, is rapidly becoming one of the premier sites on the web dedicated exclusively to helping meet the unique needs of cancer patients, their families and caregivers. The company recognizes that victims of cancer and their families, whose lives and family dynamic are forever altered, remain a geographically dispersed, isolated and underserved demographic and often do not know where to turn for the services and products they need. Cancer Horizons provides information and product choices to lessen the impact of harsh socioeconomic realities faced by millions affected by cancer, and a network of support among those engaged in the fight of their lives. For more information about Cancer Horizons, visit http://www.CancerHorizons.com.