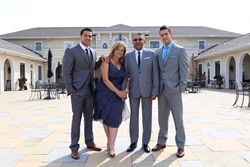 Our top priority has always been to provide an excellent experience for every guest that walks through our doors and to make them feel like they are part of our family.
MT. CRAWFORD, Va. (PRWEB) May 14, 2018
When Bob and Nikoo Bakhtiar moved from California to the Shenandoah Valley in 1991, they instantly fell in love with Virginia. Little did the Iranian-born couple know that they would eventually unlock their love of the Virginia countryside with an award-winning family-run estate winery and share it with thousands of guests.
This Memorial Day weekend marks ten years since the Bakhtiars first opened the iconic crossed-key gates to CrossKeys Vineyards, their stunning Tuscan-style winery, which was billed as Rockingham County's first and only operating winery in 2008.
On Saturday, May 26, 2018, CrossKeys Vineyards will celebrate the winery's first decade of deliciousness with wine enthusiasts, neighbors, guests, and newcomers alike. The Memorial Day Weekend celebration will include a Smoked & Oaked Barbecue, wine tastings, live music from local musician Bootsie Daniels, patio games, and more.
When the Bakhtiars first purchased their 125-acre parcel of farmland, which is located just two miles from the vineyard's antebellum namesake, Cross Keys Tavern, they simply wanted to build a dream home for their family. It wasn't until a close friend suggested, over a bottle of wine of course, that they use the rest of their land to plant grape vines that the Bakhtiars started dreaming of starting a winery.
They soon learned everything they could about viticulture and winemaking, and sought guidance from viticulture consultants, farmers, and experts from Virginia Tech. Shortly after planting the first vines at CrossKeys in April 2001, they got their first lesson in perseverance. A late spring freeze that May killed the first planting and the Bakhtiars would have to wait another year to try again.
"That first year was tough, but it only strengthened our resolve to make our dream a success," said Nikoo. "Plus, if you tell my husband that you can't do something, he's just going to work harder and do it anyway."
And their perseverance paid off. After several successful harvests, the Bakhtiars constructed a 17,000-sq.-ft. winery facility, which houses their winemaking operations, tasting room, wedding venue, event space, and an on-site Bistro, which is headed up by executive chef Dexter Burgess. After its grand opening on Memorial Day weekend in 2008, CrossKeys Vineyards has experienced a groundswell of popularity and accolades.
Today, CrossKeys Vineyards has 12 varietals growing on 32 acres. The winery produces 10,000 cases of 100 percent estate-grown wine per year including a plethora of award-winners, all of which are artfully crafted by head winemaker Stephan Heyns and assistant winemaker Steve Monson. Most recently, CrossKeys' 2015 Ali d'Oro, a dessert wine named for Nikoo's late father, won a gold medal in the prestigious 2018 Governor's Cup competition in Virginia. The 2015 Ali d'Oro was also chosen for spot in the coveted Governor's Case, which is made up of the top 12 Virginia wines selected from more than 400 entries.
Now in its tenth year, Bob, Nikoo, and their sons, Saam, who is CrossKeys' director of operations, and Babak, the winery's director of marketing, have their minds set on the future. Initial plans include developing a sparkling wine to add to the existing wine repertoire at CrossKeys, as well as potentially entering Virginia's growing craft beer scene.
"It all goes back providing a welcoming customer experience," said Nikoo. "Some people like wine, others prefer beer, and we want to create award-winning varieties of both so we can continue to make our guests feel right at home."
While CrossKeys wines are currently available in several states outside Virginia, the family's success at numerous awards shows is driving another goal to increase wine production over the next decade and expand distribution efforts to a national level.
But above all else, CrossKeys Vineyards will continue to create exquisite experiences and amazing customer service, which has been one of their founding keys to success over the past decade.
"Our top priority has always been to provide an excellent experience for every guest that walks through our doors and to make them feel like they are part of our family," said Nikoo. "We've done a wonderful job of that over the past 10 years and we can't wait to continue our dedication to hospitality for years to come."