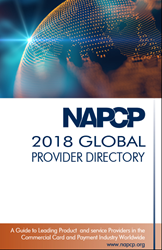 WAYZATA, Minn. (PRWEB) May 11, 2018
Each year, the NAPCP publishes a Global Provider Directory as a complimentary service to the Commercial Card and Payment industry.
This is a year-round directory for end-users to consult when implementing a new program or enhancing an existing one. It is available for 24/7 download from the NAPCP website to NAPCP members, subscribers and all other visitors to the website. Readers keep it on hand to consult regularly throughout the year. Services and products are identified by countries where they are available, and organized into the following categories:

Associations
Issuers
Networks
Software Providers
Technology Providers
The NAPCP's Global Provider Directory will help end-users:
Find a comprehensive list of providers
Find a contact within a specific organization
Send out an RFP to appropriate providers
Locate a third-party provider of technology, consultant or audit services
Connect with the industry's thought-leaders
The publication is designed to service end-users across sectors within the Commercial Card and Payment industry, including corporate, higher education, government and K-12 education. Those at all levels of experience and expertise will find it a useful resource in day-to-day work activities, as well as in strategic planning and when changing/adding providers. Those who are new to the industry will find the directory helpful as an introduction to service providers and other useful tools and products.
Other resources for new industry professionals include the P -Card introductory portal on the NAPCP website, the Purchasing Card Essentials: NAPCP's Guide to Establishing and Managing a Program, and the NAPCP Global Salary Survey.
Commercial Card and Payment industry providers find the directory useful to keep up with industry trends and developments, and list their organizations so end-users may connect with them. Opportunities are now available for the 2019 edition.
About the NAPCP
The NAPCP is a membership-based professional association committed to advancing Commercial Card and Payment professionals and industry practices worldwide. Serving a community of more than 20,000, the NAPCP is a respected voice in the industry and an impartial resource for members at all experience levels in the public and private sectors. The NAPCP provides unmatched opportunities for continuing education and peer networking through its conferences, Regional Forums, webinars, website, virtual demonstrations, newsletters and regular communication. The association sponsors research and publishes timely and relevant white papers, survey results and other documents. The NAPCP also offers a Certified Purchasing Card Professional (CPCP) credential.