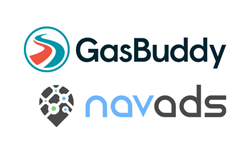 BOSTON (PRWEB) May 14, 2018
GasBuddy, the only smartphone app connecting drivers with their Perfect Pit Stop, today announced a strategic partnership with industry-leading location data management company Navads, to offer the only dedicated listings management service designed specifically for fuel and convenience store brands via Business Pages, GasBuddy's industry-leading B2B retail Software-as-a-Service (SaaS) platform.
This partnership puts increased control of listings directly in the hands of fuel and convenience store retailers. Retailers now have the ability to publish gas prices and manage their location data (address, lat/long, hours, amenities) directly through the GasBuddy Business Pages dashboard, which will be published on the GasBuddy app, as well as syndicated across top publishers like Google, Bing, Apple, Waze and in-car navigations.
"Retailers can now rest assured that they can control the facts of their business," said Greg Fox, executive vice president of retail services at GasBuddy. "Bottomline, in this digital world, it is crucial that your business can be found by potential customers, no matter how they're searching. By adding the strength of Navads' global listings management platform onto our award-winning GasBuddy Business Pages SaaS product, we have created something very powerful for our fuel and convenience clients."
This partnership creates the only listing management solution that also includes GasBuddy as a publisher, amongst Navads' already comprehensive list.
"We couldn't be more excited to kick off this strategic partnership with GasBuddy as the combination offers the best-in-breed solution in listings management for fuel and convenience stores," Lex ten Veen said, chief executive officer of Navads. "It allows us to strengthen our market-leading position in the fuel retail industry delivering optimized profiles and key insights to our fuel clients in the leading smartphone app used by drivers on-the-go."
Click here to learn more about the new Listing Management solution and GasBuddy Business Pages.
About GasBuddy
GasBuddy is a smartphone app connecting drivers with their Perfect Pit Stop. GasBuddy is the leader in crowdsourced information to help drivers find the best gas prices, closest stations, friendliest service, cleanest restrooms, tastiest coffee and much more. GasBuddy is the leading source for the most accurate, real-time fuel prices at more than 140,000 gas stations in the U.S., Canada, and Australia. The Company's B2B Retailer Software-as-a-Service (SaaS), known as GasBuddy Business Pages, provide Fuel Marketers and Retailers their best opportunity to maintain their station information, manage their brand, and promote to their target consumer audience.
About Navads
Navads is the global leader in the navigation ecosystem offering location data management for enterprise and SMB brands worldwide distributed by a network of resellers and industry partners. Navads ensures business listings are optimized for search throughout the whole local search ecosystem. Through its data quality focused platform, Navads aims to be the preferred data supplier to the navigation and mapping industry and has strategic relationships with all the principal map development companies, including Google, TomTom, Apple and HERE and are trusted by over 800 brands across 4 continents.