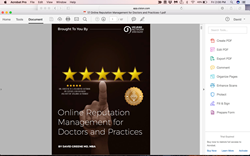 US Lead Network has restored the online reputation of over a hundred medical providers with a dozen techniques which are customized!
PHOENIX (PRWEB) May 13, 2018
Medical practitioners work extremely hard every day to build a great reputation. But let's be honest, one cannot please everyone and perhaps, there are some things that cannot be controlled. Anyone can write a bad review about a provider online and it is very difficult to get it removed – if not impossible.
As a result, US Lead Network is offering the free ebook: Online Reputation Management for Doctors and Practices. The guide lays out the different types of reputation "hit's online along with the basics of how online campaigns are performed to rectify it.
For over a decade, US Lead Network has performed leading healthcare reputation management for hundreds of doctors and practices. Bad links may come from poor patient reviews, bad press, legal issues and more. Each one necessitates a customized approach for repair.
US Lead Network offers a complete team of professionals who not only write unique content, but are experts in deployment. Developers on the team often create micro websites that are attractive and rank highly.
In addition to first rate online reputation management, US Lead Network creates custom Wordpress websites that are mobile responsive and attractive. Conversion tracking is implemented so practices can truly tell just how well the methods are working.
There are several differentiating reasons why doctors select US Lead Network over others. One is the US Based, veteran writers along with the dedicated campaign rep for each account. The company was created by a physician specifically dedicated to physician online success. The result is a comprehensive healthcare internet marketing firm that resembles a boutique relationship.
Along with the free ebook, US Lead Network is offering a free reputation audit and phone consultation. Simply visit or call (877) 791-6466.