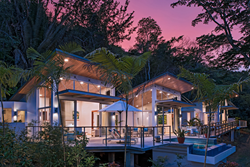 The last time Prince Harry stayed with us he seemed to enjoy himself almost as much as we enjoyed having him
SAN IGNACIO, Belize (PRWEB) May 15, 2018
As Prince Harry and Meghan Markle prepare to exchange vows in what many observers are calling the royal wedding of the century, people the world over are already asking:
Where will the royal couple spend their honeymoon?
And while many destinations have been put forth, including Namibia, Hawaii, and the Seychelles, the people of one tiny Caribbean nation are hoping Prince Harry will take them up on an offer to return to a jungle lodge he stayed at during his grandmother's, Queen Elizabeth II's, Diamond Jubilee – The Lodge at Chaa Creek in Belize.
Denise Duran, the Belizean eco-resort's wedding planner, said there are several reasons why Chaa Creek would be the perfect place for the royal couple to relax and unwind after the pomp and circumstance of the royal nuptials.
"The last time Prince Harry stayed with us he seemed to enjoy himself almost as much as we enjoyed having him. So Chaa Creek is a place he knows and by all accounts feels comfortable at.
"And, since his visit, we've added the new Ix Chel Luxury Rainforest Villas, which have definitely raised the bar in Belizean luxury accommodations. With exquisite private views, personal Jacuzzis and plunge pools overlooking the river and rainforest, and a dedicated butler to organise everything from meals to massages, it's an ideal, you could even say, royal, honeymoon location," Ms Duran said.
The eco-resort's tranquil jungle setting and peaceful ambience also make Chaa Creek a compelling choice, she said.
"Chaa Creek is located in the midst of a 400-acre private nature reserve, offering serenity, security and a chance to be far from the madding crowds, to use the words of another famous Englishman. The combination of pristine nature and high quality amenities that include a fine-dining restaurant and internationally recognised Hilltop Spa offers a blend of natural beauty and civilised comforts. It's really the best of both worlds.
"Our 160 member Belizean staff are famous for their warm, genuine friendliness, and are accustomed to welcoming celebrities and VIP guests, meaning the royal couple can relax and let their hair down – something we imagine would be most welcome after the whirlwind wedding with all its formalities and incessant paparazzi.
"Chaa Creek's trademark casual luxury is just that. We pride ourselves on offering the highest quality accommodations and amenities with unobtrusive, impeccable service. Yet people don't put on airs here. Multicultural Belize is one of the most egalitarian, democratic societies on Earth, and that was something the Prince seemed to enjoy the last time, and he very quickly won everyone over with his own friendliness, warmth and charm," Ms Duran said.
She added that Chaa Creek's farm-to-table and Maya-fusion cuisine would be another draw for the Prince, who enjoyed a poolside dinner featuring a classic Maya Kac'kick, a traditional dish made with turkey and roasted vegetables flavoured with chillies and local spices, and a salad of ingredients fresh from the onsite Maya organic farm.
"We know from experience how honeymoons stimulate the appetite, and I'm sure the dinner and hearty English breakfast the Prince so enjoyed the last time would be doubly appreciated this time around," she said.
Chaa Creek's bar staff are also primed to serve Prince Harry the one cocktail he requested, and said he enjoyed, Ms Duran said.
"They're hoping to have a chance to recreate that perfect Mojito."
Even if the royal couple cannot make it to Belize for their honeymoon, Ms Duran said she and the staff hope that he will return with his new wife sometime in the future.
"We're extending an open invitation, and, who knows? Like many couples they'll want to get away from busy schedules to spend some quality time together.
"And even if it's further into the future, we'd remind the royal couple that family owned and operated Chaa Creek is a great place to bring children," Ms Duran smiled.
The Lodge at Chaa Creek is a multi-award winning eco resort set within a 400-acre private nature reserve along the banks of the Macal River in Belize. It was recognised by National Geographic with first place honours at the 2017 World Legacy Awards held in Berlin.
ENDS