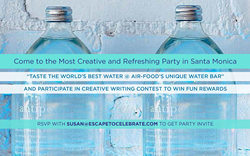 Wescape to Celebrate life, enjoy fun creative writing contest, and party for good.
SANTA MONICA, Calif. (PRWEB) May 15, 2018
Recruiting for Good a staffing company in Santa Monica, is sponsoring "Wescape to Celebrate" life to reward L.A. Foodies, Moms, and Professionals who make a difference; the funnest creative writing parties and contests at restaurant, Air-Food to enjoy the water bar, delicious tapas, and other rewards.
According to Recruiting for Good, Founder, Carlos Cymerman, "Beyond finding professionals kickass jobs they love...we design, reward, and sponsor fun parties to escape and celebrate life."
How to Attend the Next Wescape to Celebrate Life Party
Must live in Los Angeles, be 30 years of age, who has made a difference for at least 5 or more years.
Parties are by invite only and limited to 10 awesome attendees.
RSVP with Susan(at)EscapetoCelebrate(dot)com
People Participate and Earn Fun Rewards
Parties are hosted at Santa Monica restaurant, Air-Food
1) Rewarding World's Best Water and delicious tapas.
2) Outstanding writing contest submissions will be rewarded Art Beauty Chocolate and French experiences.
3) Attendees are also rewarded access to collaborative Foodie travel funding service provided by Recruiting for Good to enjoy; Cayman Island Cookout, Maui Food and Wine Festival, and Paris Salon Du Chocolat.
Carlos Cymerman adds, "Our fun creative writing parties create intentional relationships, connect us to our humanity and community...we feel alive...when we love life....the party never ends."
About
Recruiting for Good since 1998 has been connecting talented Accounting/Finance, Engineering, and IT professionals to great jobs. "We support Our Moms Work, a fun community service." And reward referrals with travel for women to celebrate a B-Day in London, Paris, or Tuscany. Rewarding funding for weekend mom party travel to Cayman Cookout, Maui Food Festival, and NY (Art Beauty Foodie Shopping and Theater), and helping fund group travel so friends can party together anywhere in the world.
AIR-FOOD
AIR⋮FOOD is born of two passionate visionaries, Marc & Thierry. "They come from two completely different backgrounds. One was a contractor in logistics, the other a chef in London and Paris. What they both have in common besides the love of good food, is the love of street culture. Several years ago they met in Paris during a regular shoe sale at the place de La République…"
From this meeting, the pair launched into a collaboration of sharing their passion for food. They started with pop-up restaurants with the aim of offering gastronomic street food to all, from a range of mixed recipes from different cultures and from gastro to street food.
Then, they had a brainwave….resulting in multiple pop-up events: Quai des orfèvres, Quai 54, launch of the Max Limol's book, to name a few. If we were to summarize AIR⋮FOOD in two words, they would be passion and sharing.
AIR⋮FOOD is located at 109 Broadway, Santa Monica, CA 90401. Hours are 8:30 a.m. to 10:00 p.m. from Sunday to Thursday & from 8:30 a.m. to 11:00 p.m. on Friday & Saturday