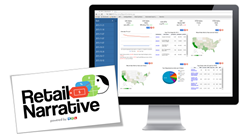 As this software is gaining traction and more companies are interested in learning more about how AI can be used in a practical way to improve their business we thought it deserved its own home on the web. - Jim Lewis, CEO & Founder of ERS
NEW YORK (PRWEB) May 22, 2018
Enhanced Retail Solutions, a leading provider of Software-as-a-Service (SaaS) retail analytic and demand planning solutions to suppliers, licensors and their retail trading partners, today announced the launch of a website devoted exclusively to its AI Expert system - RetailNarrative. This software is designed to aggregate and ask questions of Retail POS and Demand Planning data, then determine the relevance and value of taking action. 
ERS was recently recognized as a Top 10 Artificial Intelligence Solution Providers by Retail CIO Outlook Magazine for their work on this expert system. RetailNarrative is a first in the Retail Analytic reporting and consulting field. As an AI-assisted system, it combs through door level retail sales and inventory data asking the questions seasoned analysts would to present the user the most actionable information in an interactive dashboard with a concise narrative explanation. The system is taught to ask questions of the data, know what is relevant and what is not, and then learn from that. Unlike traditional BI platforms, it actually does all the work and interpretation for the user, saving hours of labor and instantaneously finding opportunities to improve a retailer or wholesaler's sales, profit and inventory productivity.
"As this software is gaining traction and more companies are interested in learning more about how AI can be used in a practical way to improve their business we thought it deserved its own home on the web," says Jim Lewis, CEO. "Visitors to the site can watch a video about how it works and even take a test drive. Its main audience includes sales teams and executives of manufacturers and retailers."
About Enhanced Retail Solutions LLC: 
Enhanced Retail Solutions is a software and consulting firm specializing in retail analysis and demand planning for manufacturers, licensors and their retail partners. ERS' state of the art software tools and consulting deliver critical data quickly, easily and cost effectively, adding over one hundred million dollars to their clients' bottom line. ERS' broad customer base includes industry leaders in the toy, electronics, consumer products, apparel, footwear, home textile, home décor, home improvement, housewares, jewelry and food industries. Headquartered in New York City, Enhanced Retail Solutions has offices in the Dallas, TX and development in the US, Cork, Ireland and Delhi, India. For more information, visit http://www.EnhancedRetailSolutions.com.