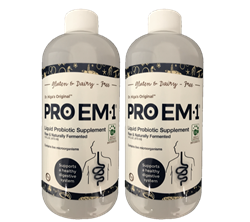 I have been using this for years. I also give it to my dog. It's a high grade probiotic.
BOCA RATON, Fla. (PRWEB) May 15, 2018
TeraGanix® Dr. Higa's Original™ Pro EM-1®, a raw, naturally fermented liquid probiotic supplement containing live microorganisms for improved health, is available on Go4ItNutrition.com, RonnieColemanNutrition.com, RevNutrition.com, Teraganix.com and the world's largest online retailer, Amazon.com.
Dr. Higa's Original™ Pro EM-1® contains live microorganisms, photosynthetic microbe bacteria for increased detoxification, and organic honey for improved taste and immunity benefits. Pro-Em-1® has seen recent online success, racking up more than 60 positive reviews on Amazon.com, totaling an outstanding average rating of 4.5 stars out of 5.
"After watching a YouTube video by Dr. Berg where he mentioned this probiotic, I was intrigued," verified Amazon.com purchaser S. Bell wrote. "(sic) said this product worked much better to rid a white tongue. I have taken probiotics before, and expensive ones at that, so I was not excited about trying another product. Dr. Berg has been correct before in his suggestions, so I decided to try it. I'm glad I did. The white tongue problem had been around for at least two years — just after I took too many rounds of doctor prescribed antibiotics. After taking Pro EM1, my bowels became very regular, so much so that I needed to stay close to a bathroom. It took about fives days of taking this before I noticed the white on my tongue fading. It's a great feeling that a problem is being resolved."
Pro Em-1® has been promoting its various probiotic strains, new packaging that includes a higher colony count, as well as natural, detoxifying, synthesized vitamins, enzymes and other antioxidant compounds.
"I have been using this for years," verified Amazon.com purchaser Dona Greenberg wrote. "I also give it to my dog. It's a high grade probiotic."
TeraGanix® is a Texas-based company founded in 2005 to provide a simple and effective avenue for marketing Effective Microorganisms® products for the U.S. and Canada. PRO-Em-1® is gluten-, wheat-, soy-, and dairy-free and contains no animals ingredients.
Probiotics are supplemented to improve immunity by detoxifying the body, especially the gastrointestinal system. An added benefit of this detoxification process is improved digestion and nutrient absorption, essential enzyme growth, weight loss and reduced bloating. Many probiotic users report overall benefits to skin and organ health including reductions to inflammation.
For more information on TeraGanix® and Dr. Higa's Original™ Pro EM-1® visit http://www.teraganix.com.