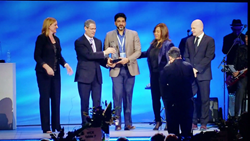 DALLAS (PRWEB) May 15, 2018
Cresco International has been named the winner in Outstanding Analytics Solution in 2018 IBM Beacon Award, revealed at the IBM PartnerWorld at Think conference in Las Vegas, Nevada on March 20, 2018.
The IBM Beacon Awards program recognizes IBM Business Partners that deliver exceptional solutions to help drive business value and transform the way clients and industries operate. The Beacon Award for Outstanding Analytics is awarded for skills in business analytics, client dedication and business value-add to multiple organizations.
The Outstanding Analytics Solution award was the most competitive award category in 2018. By presenting this, IBM recognizes Cresco's exceptional work in driving business value by delivering world-class solutions through their Data Science (Predictive Analytics) and Decision Optimization (Prescriptive Analytics) technologies. For more information on the solution, visit http://www.HummingSales.com. Cresco's solutions are in-line with the company's growth strategy of providing integrated cloud-based solutions for a yearning market. They reinvest to innovate and produce world-class solutions for global consumption.
Sanjeev Datta, CEO of Cresco International says, "Winning a Beacon Award is definitely something that takes time because you have to prove yourself. It is a very prestigious award from IBM which not only recognizes Cresco International as a company that has a strong foundation but also our solution."
Cresco International was one of 17 award winners and dozens of finalists for categories encompassing a wide range of solution and services areas – from analytics and cloud to security and customer engagement.
For more information about the 2018 IBM Beacon Awards, including details on all winners and finalists, visit http://www.ibm.com/partnerworld/page/beacon-awards-overview.
If you would like more information about this topic, please call Ashly Joys at 9729711287, or email ajoys(at)crescointl.com.