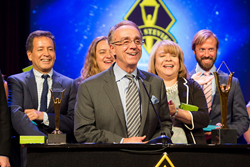 FAIRFAX, Va. (PRWEB) May 15, 2018
The Stevie® Awards announced today the Grand Stevie Award winners in The 16th Annual American Business Awards® competition. Winners will be presented their Grand Stevie Awards trophies at the ABA's gala banquet on June 11 in New York.
FIS, the Jacksonville, FL-based leader in financial services technology, will be presented the Grand Stevie Award for Most Honored Organization of the Year. FIS earned 70 award points, more than any other entrant. Stevie Award-winning organizations are accorded three points for each Gold Stevie win, two points per Silver Stevie win, and one-and-a-half points for each Bronze Stevie win.
10Fold Communications, with offices in San Francisco, the Bay Area, Southern California, Texas, and Colorado, has won the Grand Stevie for Most Honored PR Agency of the Year with 29 points earned on behalf of clients including Agiloft, Attack IQ, and Versa, among others.
Other top ABA Grand Stevie winners include George P. Johnson Experience Marketing (Auburn Hills, MI) for Most Honored Interactive Agency of the Year with 21.5 points and Merkle (Columbia, MD) for Most Honored Marketing Agency of the Year with 18.5 points.
Grand Stevies were also awarded to the 10 other organizations with the most points in the 2018 competition.
The Top 10 winners are:
1. PAIRELATIONS, Centennial, CO, on behalf of clients including Audigy, Beltone, Formativ Health, GN ReSound,Gorilla Safety, Soleo Health, and TekLeaders (48.5)
2. Reltio, Redwood Shores, CA (38)
3. Jeunesse Global, Orlando, FL (27.5)
4. Makers Nutrition, Hauppauge, NY (21)
5. Cisco Systems, nationwide (20.5)
6. (tie) Aflac, Columbus, GA (18)
John Hancock Signature Services, Boston, MA (18)
8. (tie) Franklin Covey, Salt Lake City, UT (16.5)
PAN Communications, with offices in Boston, New York, Orlando, and San Francisco (16.5)
TopSpot, Houston, TX (16.5)
All organizations operating in the U.S.– large and small, public and private, for-profit and non-profit—are eligible to submit nominations to the ABAs in a wide range of categories, honoring achievement in every aspect of work life, from customer service and management to public relations and product development. More than 3,700 nominations submitted to the 2018 competition were reviewed and rated in the judging process by more than 200 professionals, whose average scores determined the Gold, Silver, and Bronze Stevie Award winners who were announced earlier this month. The June 11 awards presentations will be broadcast live via Livestream.
For a complete list of the 2018 Stevie Award winners, visit http://www.StevieAwards.com/ABA.
About the Stevie Awards
Stevie Awards are conferred in seven programs: the Asia-Pacific Stevie Awards, the German Stevie Awards, The American Business Awards®, The International Business Awards®, the Stevie Awards for Women in Business, the Stevie Awards for Sales & Customer Service, and the new Stevie Awards for Great Employers. Stevie Awards competitions receive more than 10,000 entries each year from organizations in more than 60 nations. Honoring organizations of all types and sizes and the people behind them, the Stevies recognize outstanding performances in the workplace worldwide. Learn more about the Stevie Awards at http://www.StevieAwards.com.
Sponsors of The 2018 American Business Awards include HCL America, John Hancock Signature Services, and SoftPro.