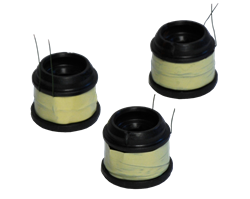 (PRWEB) May 23, 2018
A coil used in mil spec transformer applications needs to be reliable, accurate, responsive, flexible and able to perform in various battle conditions. Precise launch guidance and navigation controls for the Air Force, Army, Navy, Coast Guard and our Allied Nations are vital to our national security. Outstanding accuracy, lethality and penetration is necessary to defeat threats on the battlefield today.
Badger Magnetics designs and manufactures quality power coil transformers for a wide variety of industries. With their state-of-the-art manufacturing capabilities, high level of custom service and strategically located facilities, Badger offers custom built electromagnetic coil products for a wide variety of applications.
Since March of 2015, a Badger Magnetics' sales representative has diligently been working on building a new customer relationship with a company that provides coils for hazard threat detection devices and coils for armament systems. These devices and systems are used in guided projectiles, various air and ground vehicles and handheld devices.
One of the first steps was for Badger Magnetics to become a mil spec transformer qualified supplier. The first step of the process required them to fill out numerous security forms. In the past, Badger Magnetics has been a provider of mil spec transformers and is International Traffic in Arms Regulations (ITAR) registered. This registration aided Badger in the final qualification process.
Once the qualification process was complete, Badger Magnetics was able to receive RFQs for their mil spec transformers. While waiting for the first request, there was daily communication between this potential new customer and their outside sales representative, technical sales, design engineering, and production teams.
A request for quote was received in 2018 and quick work on the part of their electromagnetic coil design engineers allowed them to manufacture a coil prototype in three days for this customer to test and review for this mil spec transformer application.
In April 2018, Badger received their first order for 11,000 pieces!
Badger Magnetics' persistence, quick turnaround and hard work payed off. They landed yet another mil spec transformer customer with a component that exceeded program requirements for accuracy, effectiveness, range and cost.
Mil Spec Transformer Capabilities:

Capacity: Low VA up to 100 kVA Three Phase
Frequencies: 50 Hertz thru 400 hertz
Windings: Copper or Aluminum
Insulation: UL Recognized Insulation System
Temperature, Termination, and Voltages: Per Customer Specifications
Optional accessories are available
ISO 9001:2015 in our Colorado location
ITAR Registered and Compliant
Badger Magnetics provides electromagnetic products for many different industries. Their products are reliable, cost-efficient and produced within short time frames. When you need expertise in design and manufacturing of mil spec transformer offerings, contact Badger Magnetics.