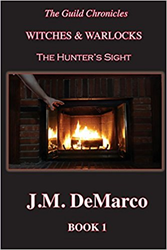 Dungeons and Dragons for the 21st century!
STATEN ISLAND, NY (PRWEB) May 14, 2018
Boulevard Books is proud to publish the debut novel by author Justin DeMarco. The Guild Chronicles: Witches & Warlocks: The Hunter's Sight is a roller-coaster ride of fantastic proportions. The author describes it as follows:
Angelica Everhardtht is not your typical teenage girl. She's a Witch, but not your typical Witch either. She's what is known as a Darkling. The most powerful and dangerous being in existence. Darkling's are a danger to themselves and everyone around them. Ancient laws state that Angelica shouldn't even be alive. Her very existence threatens the Magical Societies that have remained hidden for thousands of years. Thanks to her powerful and influential family, she could live, but only if she was placed under a powerful spell that bound her magic. For the past fifteen years, she has been living a somewhat normal life in her small town of Crystal Falls. She attends school and hangs out with her best friends. Her only worry is dealing with the constant badgering of her arch rival. Sounds normal right? All that changes when a horrific vision, sets in motion a chain of events that will forever alter her life. Powerful forces threaten to unleash the monster within her, and secrets that have been kept for years will be revealed.
Boulevard Books is an educational publishing company for the 21st century. Founded by educator and author Avi Gvili in 2010, it aims to bring to the public the voices of the new century.